So NOW we're talking, Cyndi Lauper is one of my all-time favorite artists and she hasn't stopped since her first solo album in 1983.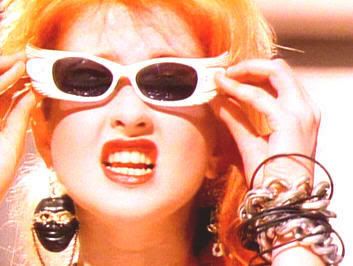 She's so Unusual is often regarded as a landmark album and that is what it is, it's stocked full of excellent pop songs that show her remarkable range as an artist and a vocalist. The ballads "Time After Time" and "All Through the Night" are still loved to this day and regarded as some of the best slow songs of the 1980s. "Girls Just Want to Have Fun" is still inescapable and is probably one of the most well known pop songs ever. "She Bop" gave Cyndi some controversy upon its release about its subject matter which is about masturbation..and let's not forget the amazing cover of Prince's "When You Were Mine".
The hits raged on with True Colors, the title track showed a softer side of Cyndi and gave her new depth. "Change of Heart", another big hit off of the album, was a no-nonsense late-80s pop masterpiece. The album also included a lovely cover of "What's Going on" originally by Marvin Gaye and Cyndi embarked on a huge world tour. Unfortunately, the final single "Boy Blue", which was quite personal to Cyndi who wrote the song about a friend that died of AIDS, flopped on the charts and started the decline in Cyndi's commercial success.
Cyndi decided to branch out a bit and do a film called Vibes which was panned by critics and had a dismal box office. This all carried into Cyndi's delayed third album A Night to Remember. The album showed a more mature and sexier side of Lauper and a good balance of ballads and uptempo, fun pop songs. However, she has consistently said how much of a "disaster" she believes the A Night to Remember project was. In any case, I think it's a great album..certainly it's not offensive, but I can see that she may have been always a bit irritated by the project because of lack of control she has said she had during the recording and making of the album. The lead single, "I Drove All Night", was a major hit and went Gold in the US, but unfortunately that success didn't translate into heavy album sales or success for the following singles from the album.
Hat Full of Stars and Sisters of Avalon followed into the 90s, Cyndi became a very developed song writer and gathered full control of her career. The sales of course died down and she hasn't been a threat to the mainstream charts in ages, but she maintains a loyal and steady fan base.
Lauper's most recent album is the dance album entitled Bring Ya to the Brink.