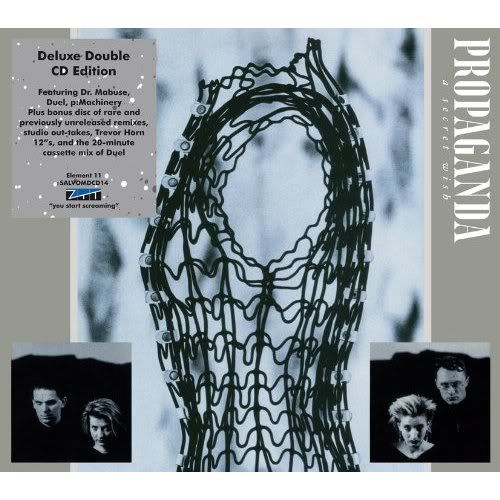 They were a Düsseldorf band, and with hindsight you can see them as the halfway point between the city's most famous sons, Kraftwerk, and the common European language of techno-pop that flourished in Ralf and Florian's wake. But Propaganda were pipe-banging confrontationalists before they became a waking pop dream. Ralf Dörper, a bank employee, music writer and member of Düsseldorf industrial-electronic band Die Krupps, founded Propaganda with part-time DJ Andreas Thein and jeweller-goldsmith Susanne Freytag. None was a musician in the conventional sense but they made a demo version of 'Discipline' by Throbbing Gristle which found its way to NME writer Paul Morley, then in the process of setting up ZTT with Trevor Horn and Jill Sinclair.

When Propaganda entered Sarm Studios with Trevor Horn to record this album, they were inexperienced to the point that Brücken admits she did not even know that records were produced at all. Thein left the band shortly after their first sessions produced the astonishing 'Dr Mabuse', a ten-minute multi-version fantasia which transplanted the fictional criminal mastermind of the Weimar era into the present via, among other things, a proto-house bassline.

Horn discovered he had great facility with Propaganda's mixture of the beautiful and the sinister, but by 1984 the ZTT machine was moving into high gear and Frankie Goes To Hollywood were beginning to consume all of his time. It was therefore decided that the Propaganda album would be produced by Horn's engineer Steve Lipson and with Lipson at the controls A Secret Wish became perhaps ZTT's best-realised album. "It's some of the best stuff Steve ever did," says Horn. "I always loved 'Duel', Claudia's vocal on that is incredible, and the dark-side version 'Jewel' too. I loved that album and a lot of other, perhaps unexpected, people loved it too." Quincy Jones called Horn, wanting to license A Secret Wish for America. Horn kept him on the phone for an hour talking about Jones's work with Frank Sinatra. "And if you listen to Michael Jackson around that time," Horn says, "He started to sound a lot like Propaganda. A lot of industrial sounds..."

A Secret Wish was released on vinyl and cassette in the summer of 1985. Compact disc was in its infancy and a few months later, when a CD edition of the album was slated, Lipson seized the opportunity to refine the album into something even more satisfying. Dream Within a Dream, Jewel and Dr. Mabuse were all completely reworked into cinemascope, with the latter two doubling in length. Frozen Faces was added and the album's finale continued to transform. Throughout the original recording process, right up to pressing stage, the last track had been known as Testament. It was then renamed The Last Word (Strength to Dream). And then, on the CD edition, it was edited down into the closing stages of Dr. Mabuse.

All these different versions, plus a wealth of previously unheard alternative mixes, mutations and exploitations are included to ensure that this is the ultimate version of one of the most ambitious, accomplished and beautifully preserved albums of the mid-80s; a sound that, a quarter of a century on, remains as exciting and alluring as ever.


disc 1
1. Dream Within A Dream
2. Murder Of Love, The
3. Jewel
4. Duel
5. Frozen Faces
6. P:Machinery
7. Sorry For Laughing
8. Chase, The
9. Dr. Mabuse
10. Dream Within A Dream [analogue variation]
11. Jewel [analogue variation]
12. Duel [analogue variation]
13. P:Machinery [analogue variation]
14. Dr. Mabuse [first life]
15. Last Word (Strength To Dream), The
disc 2
1. Do Well [The first cut/Duel/Jewel (cut rough)/Wonder/Bejewelled]
2. Testament One
3. Die Tausend Augen Des Mabuse
4. Sorry For Laughing [unapolagetic 12" version]
5. Thought [part one]
6. Thought [part two]
7. P:Machinery [Goodnight 32 mix]
8. Chase, The [Goodnight mix]
9. Echo Of Frozen Faces
10. P:Machinery [p:Polish]
11. Testament Three
Love the original album (well the cd version - not heard some of the original versions)!
Some videos:
Duel
Dr Mabuse (version 1.0)
Dr Mabuse (version 2.0)
P Machinery
Jewel (live tv clip)