21st July 2012
Nightowl Boat Party
& Pacha London after party
Tickets on sale now:
www.thisisnightowl.com
Join us on facebook:
www.facebook.com/thisisnightowl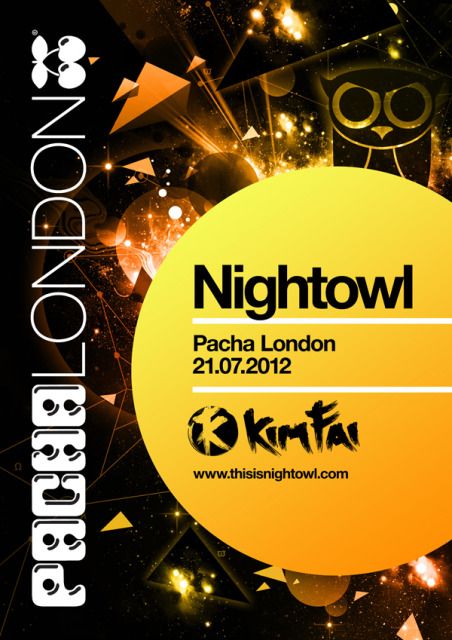 NIGHTOWL BOAT PARTY - 9pm - 1am
_______________________________________
Take in London's amazing sights whilst partying to a soundtrack of sun kissed House grooves, as we cruise down the Thames on the Pride of London! Once the boat docks, it's time to carry on the party at Pacha London, where Nightowl favourite Kim Fai will be headlining!
Boat departs from Westminster Pier at 9pm sharp.
Pacha London - 11pm - 6am
____________________________
Expect quality house music all night long and an electric atmosphere to match as the iconic Pacha London gets the full Nightowl treatment.
Kim Fai
- A Nightowl favourite and one of the biggest home grown talents to emerge in recent years - will headline. With his ever expanding arsenal of remixes, re-edits and original productions, support from the biggest players on the scene and attention from both independent and major labels such as Toolroom and Size, Kim is destined for great things!
Dale Hooks
will also feature, and, if the last time is anything to go by, we are in for a treat. His sound - a sublime blend of cutting edge House and Techno - will set the stage perfectly for Kim Fai's peak time hands in the air house grooves. Expect to hear some of the original productions that have been getting Dale recognised of late - most notably "Forest Groove" - which has received support from a whole host of the big hitters, including a certain Cadenza label boss, Luciano.
Line up:
________
Kim Fai
www.facebook.com/kimfai
Dale Hooks
& Guests
Tickets & info:
_______________
Boat Party (Includes entry to after party)
Earlybird - £20 - SOLD OUT
Standard - £25
Pacha only
Standard - £15
Tickets available from:
______________________
www.thisisnightowl.com
// 0791 901 6770
www.pachalondon.com
www.ticketweb.co.uk
// 08444 771 000
VIP Table enquiries: 0845 371 4489
_ _ _ _ _ _ _ _ _ _ _ _ _ _ _ _ _ _ _ _ _ _ _ _ _ _ _ _ _
www.youtube.com/thisisnightowltv
www.facebook.com/thisisnightowl
www.twitter.com/thisisnightowl
_ _ _ _ _ _ _ _ _ _ _ _ _ _ _ _ _ _ _ _ _ _ _ _ _ _ _ _ _
Westminster Pier
Victoria Embankment
City of Westminster
SW1A 2JH
Nearest tube: Westminster
Pacha London
Terminus Place
Victoria
London
SW1
0845 371 4489
Nearest Tube: Victoria