1 NEW The Jezabels - Rosebud

AUDIO/ LIVE VIDEO
Amazing cinematic rock from the Aus band set to release their album officially in UK. Screw The Cranberries' dull comeback - this is of a similar ilk but far more sonically pleasing.



2 NEW Ladyhawke - Black, White and Blue

AUDIO


And more from Down Under (though i'm not sure where she actually lives - NZ? UK?)! Pip channels The Beatles with the first single from the more rock-based second album Anxiety.

3 1 Diana Vickers - Music To Make Boys Cry (8 weeks; peak #1)
4 2 Lana Del Rey - Born To Die (12 weeks; peak #2)
5 11 Chairlift - Met Before (2 weeks; PEAK)
6 4 Lana Del Rey - Off To The Races (5 weeks; peak #4)
7 3 Oh My! - Bad Date (5 weeks; peak #1)


8 28 Gareth Emery with Christina Novelli - Concrete Angel

VIDEO (2 weeks; PEAK)
HIGHEST CLIMBER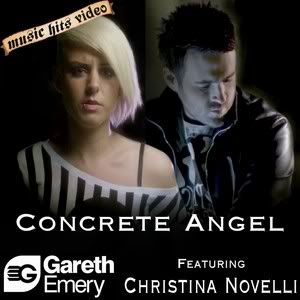 Flying not falling!

9 5 Niki and The Dove - DJ, Ease My Mind (2012 remix) (7 weeks; peak #2)
10 8 Kindness - SEOD (4 weeks; peak #8)
11 6 Arcade Fire - Sprawl II (Mountains Beyond Mountains) (7 weeks; peak #3)
12 7 Mark Lanegan Band - The Gravedigger's Song VIDEO (2 weeks; peak #7)
13 9 College - A Real Hero (EP) (10 weeks; peak #8)
14 RE Alex Winston - Choice Notes VIDEO (4 weeks; PEAK)


This song finally has a video as she promotes her long-awaited debut album! Though this is the first time the song has made the top 20 by itself, it spent nearly three months on chart as part of the Sister Wife EP (now regarded "officially" by me as a mini-album). Had i charted it by itself at that time it would have peaked at around this position and would have had about six or seven weeks in that run.

15 12 Fun. - We Are Young OFFICIAL VIDEO (8 weeks; peak #2)
I prefer the "girl peeling an apple" video! Album coming.

16 15 Desire - Under Your Spell (2 weeks; peak #15)


17 NEW Wolfette - Together In Electric Dreams

VIDEO
This is a FREE download out now. Nice cover.

18 16 Kavinsky and Lovefoxxx - Nightcall (2 weeks; peak #16)
19 10 Muchuu - Rivers Will Freeze (4 weeks; peak #7)


20 NEW Austra - Spellwork

VIDEO
I bought this album upon release, not sure how i missed how fantastic this track was!
Does Ladytron better than Ladytron right now.

21 14 Black Casino and The Ghost - Falling Into Pieces/ Odyssea/ On A Plane (5 weeks; peak #10)


22 NEW Queen Kwong - Long Gone

VIDEO
First hit in 2 years for Reznor's discovery Carre Calloway.

23 17 Spotlight Kid - Forget Yourself In Me (4 weeks; peak #17)
24 19 Gotye with Kimbra - Somebody That I Used To Know (4 weeks; peak #19)
25 29 First Aid Kit - Emmylou (4 weeks; PEAK)
26 18 Goldfrapp - Yellow Halo (8 weeks; peak #14)
27 13 The Hoxtons - Benton! (Fenton!) Jesus Christ! (6 weeks; peak #1)
28 33 Evanescence - My Heart Is Broken VIDEO (8 weeks; peak #23)
29 30 Florence and The Machine - No Light, No Light (11 weeks; peak #23)
31 21 Glen Campbell - There's No Me... Without You (7 weeks; peak #10)
32 25 Snow Patrol - In The End (4 weeks; peak #21)
33 23 Jane's Addiction - Underground VIDEO (10 weeks; peak #6)
34 20 Dia Frampton - The Broken Ones (11 weeks; peak #12)
35 35 Leonard Cohen - Darkness (2 weeks; peak #35)
36 22 Muchuu - Dance The Day (9 weeks; peak #1)
37 24 Bruce Springsteen - We Take Care Of Our Own (2 weeks; peak #24)
38 31 Nicola Roberts - Yo-Yo (18 weeks; peak #8)
39 27 Karen O/ Trent Reznor/ Atticus Ross - Immigrant Song (9 weeks; peak #16)
40 32 Do Re Mi with Kerry - Yodel In The Canyon Of Love (4 weeks; peak #32)
41 38 Glen Campbell - Ghost On The Canvas (15 weeks; peak #11)
42 34 Ladytron - Mirage (9 weeks; peak #31)
43 36 Paul McCartney - My Valentine (4 weeks; peak #36)
44 41 Vukovi - ...But I Won't Wear You Again (EP) (Target Practice/ Gutless/ Snakes and Ladders/ A Girl Called Jade) (4 weeks; peak #22)
45 37 Your Favorite Martian - Friend Zone (4 weeks; peak #26)
46 40 Bethel Music feat Jenn Johnson - Come To Me (8 weeks; peak #4)
47 39 The Good Natured - Video Voyeur (9 weeks; peak #9)
48 43 Walk Off The Earth with Sarah Blackwood - Somebody That I Used To Know (4 weeks; peak #34)
49 44 Goldfrapp - Melancholy Sky (5 weeks; peak #27)
50 46 The Jezabels - Trycolour (11 weeks; peak #1)
51 42 Ladytron - Ambulances (4 weeks; peak #28)
52 50 Jess Mills - Pixelated People (9 weeks; peak #28)
53 57 Charlotte Gainsbourg - Anna (7 weeks; peak #18)
54 45 Omniflux - She and Him (4 weeks; peak #27)
55 52 Ladytron - White Elephant (9 weeks; peak #29)
56 47 Kelly Waters - First Time (8 weeks; peak #11)
57 49 Cattle and Cane - Cattle and Cane (EP) (Waiting) (16 weeks; peak #1)
58 51 Leona Lewis - Hurt/ Colorblind (8 weeks; peak #5)
59 54 Friends - Friend Crush (14 weeks; peak #16)
60 59 Carly Rae Jepsen - Call Me Maybe (10 weeks; peak #23)