As expected, Nelly Furtado's comeback single 'Big Hoops (Bigger The Better)' dethrones The Wanted's 'Glad You Came' which drops to #2 after two consecutive weeks at No.1.
But this is a great week for Rihanna too: Her collaboration with Coldplay, 'Princess Of China', the 4th single off their album 'Mylo Xyloto' is the Hot Shot Debut at #7 while her own 5th single off 'Talk That Talk', 'Where Have You Been', becomes the Greatest Gainer as it soars #18-#10.
The second track to finally have its debut this week is Shakira's 'La Quiero A Morir (Je l'aime à mourir)' at #17 after having bubbled under the last two charts.

Drop-Out(s):

Starships - Nicki Minaj
CR: #6 - #13 - OUT / Total: 28 points
Is Anybody Out There? - K'Naan (feat. Nelly Furtado)
CR: #20 - #19 - OUT / Total: 3 points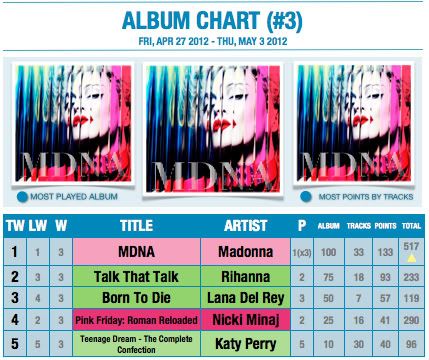 Madonna's 'MDNA' spends a third consecutive week at No.1 as it slows down its decrease from last week to a little more than 13% and becomes both the most played album and the album that collects the most points on the Track Chart once again.
It's also the first album to pass the 500 points mark and thus gets a Gold certification.
Madonna's main competitor for the top spot has now become Rihanna's 'Talk That Talk' that experiences another 57% boost this week while she no longer has to fear Nicki Minaj's 'Pink Friday: Roman Reloaded' that decreases by a shocking 60% and falls from #2 to #4 this week.