Republic Artists Boat Party
& After Parties
4th August 1pm
Boat Party: 1:00PM – 5:00PM
Star Of Kings from 5:00PM
The Egg from 11:30PM till 10AM
21 hours of house and techno
We're super excited about the next Republic Artists boat party.
Not only will we be kicking things off early in the afternoon for the first ever daytime cruise, we'll also be welcoming Britain's godfather of house and techno, Evil Eddie Richards to play alongside the RA residents!l
The free official after party will be held at the
Star of Kings
, powered by function 1, Kings Cross from 5pm.
For the die hards who want to keep going there is another free after party at
Egg
from 11pm to 10m. ( last entry strictly before 11:30pm)
RA boat parties rock and always sell out fast! This one will be no exception.
Please note all boat party tickets holders gain FREE entry to both afterparty events at STAR OF KINGS and THE EGG.
EDDIE RICHARDS ( DY-NA-MIX / WIGGLE / FABRIC )
http://www.eddierichards.net/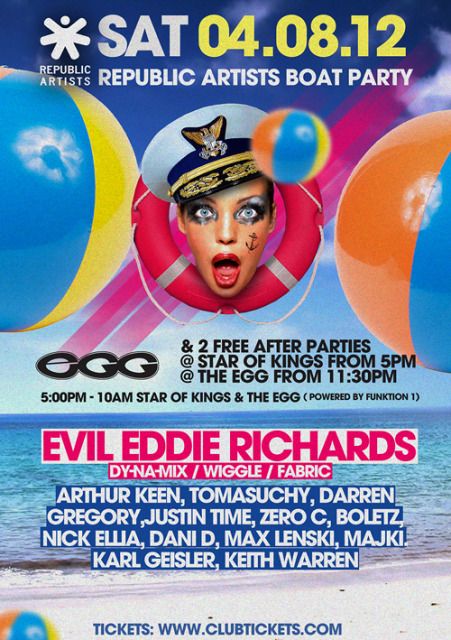 Tickets:
£20 early bird / £25 standard / £30 last release
Resident Advisor
http://www.residentadvisor.net/event.aspx?379654
Clubtickets
http://www.clubtickets.com/gb/2012-08/0 ... e-richards
________________________________
Timetable:
- Boat Party Temple Pier / Embarkation Time 1:00pm sharp!
- Boat Party Temple Pier / Disembarkation Time 5:00pm
- First Free After Party at Star Of Kings Door Open 5:00pm
Address: 126 York Way, King's Cross, N1OAX
- Second Free After Party at The Egg Door Open 10:00pm,
11:30pm last entry!
Address: 200 York Way, London N7 9AX
_______________________________________________________
Boat party & after party line up:
Evil Eddie Richards, Tomasuchy aka Thomas Tesla, Arthur Keen, Darren Gregory, Max Lenski, Nick Ellia, Dani D, Justin Time, Zero C, BolEtz, Majki, Karl Geisler & Keith Warren
_______________________________________________________
EDDIE RICHARDS ( DY-NA-MIX / WIGGLE / FABRIC )
http://www.eddierichards.net/
It's been a very busy time for Eddie Richards, dance musics Quintessential pioneer and "Britains godfather of house and techno" (Mixmag). One of the first DJs to champion house back in the mid 80s and one of the UK's original mix DJs residing at London's Camden Palace, voted best club in the world, (Record Mirror.)
Eddie became a key figure in a new music and cultural movement soon to explode worldwide. After playing at such influential and original underground clubs as Clink St. and Heaven in London and Manchester s Hacienda, he went one to headline the legendary UK pay parties Sunrise. Energy and Helter Skelter among countless others. Remix and production work led to the release of club classics; Acidman in 1988 which hit National Top 20, followed by other chart topping remixes of Ralphi Rosario, Orbital and The Shamen. Since the mid 80s he has been included in virtually every book, documentary and film on the dance culture and sought after all over the world for his flawless mix of deep bass driven techno with soulful and tough tribal house, a format he has always maintained, and has led him to be widely regarded as the pioneer of what is now known as tech-house.
____________________________________
Join Republic Artists troops on facebook
http://www.facebook.com/republicartists
Follow us on Twitter
http://twitter.com/RepublicArtists
Check brand new Myspace
http://www.myspace.com/republicartists
RA Free downloads on Soundcloud
http://soundcloud.com/groups/republic-artists