073.
Kacey Musgraves -
Same Trailer Different Park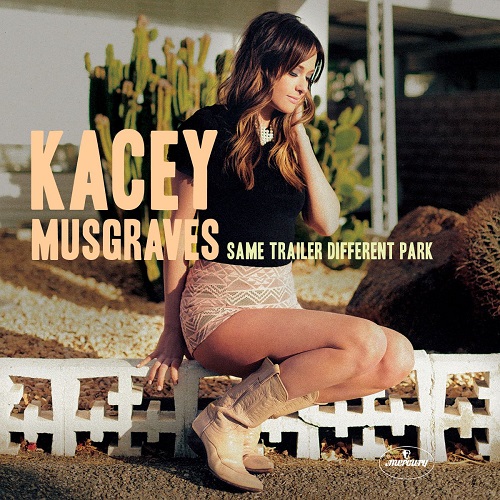 After writing and performing songs
like this clever one
at small local venues across Texas, Kacey inked a deal with Mercury Nashville and got to work recording songs for her debut effort.
Small town living is the overarching theme on the album, but there are so many accessible subtopics that this really is a universal, storyteller's album. The resignation in "Blowin' Smoke" and "Merry Go 'Round" are great examples of the human tendency to bow to practicality and realism, leaning into pre-penned inevitabilities and abandoning grand dreams of yesteryear. Kacey doesn't just sit in the bleakness of it all with those two tracks, though; there's so much light-heartedness and smart humour injected throughout. Romance is music's most-ploughed subject and though "I Miss You" takes a more expected tender touch towards the topic, "Stupid" instead picks up an axe to the whole notion. She even has a song for the trolls, "Step Off", which holds a rather extreme (but understandable) message at the end of its chorus. "It Is What It Is", the only track from the album to spend multiple days atop my daily chart, circles back to that sense of resignation earlier on in the album, closing the LP on a sober note. My favourite track, though, is the track that introduced me to Kacey Musgraves, the progressive (by country's notoriously conservative and traditional standards) "Follow Your Arrow". That song really connected her with a fanbase outside of country music and, perhaps more significantly, made a certain segment of that core country base feel recognised in a rare positive light. It's also still the song that gets the most roaring applause at her live shows to this day.
The album was a home-run success with critics, scoring 89 on Metacritic. "Merry Go 'Round" won Best Country Song at the Grammys and the album 'Best Country Album'. 'Same Trailer Different Park' would also score nominations at most of the major country award shows, though it would, rather curiously enough, lose them all. It would peak at #2 in the US and eventually earn a platinum certification there, setting the sturdy foundation for future successes from the talented singer-songwriter.
Code:
Significance rating: 10/20
No. 1s on my daily chart: It Is What It Is (x2); Follow Your Arrow (x1); Stupid (x1); Merry Go 'Round (x1); Blowin' Smoke (x1)
Best lyric: Mama's hooked on Mary Kay, brother's hooked on Mary Jane, and daddy's hooked on Mary two doors down, Mary Mary quite contrary, we get bored so we get married, and just like dust we settle in this town
Best melody: Silver Lining
Best video: Follow Your Arrow
Rank in 2010 countdown: NR
Rank in 2011 countdown: NR
Rank in 2012 countdown: NR