Welcome everyone to my annual music chart of the great year 2 - 0 - 2 - 2
Like the many past years. This will contain my most favorite 50 tracks which had been released before November 1st, 2022. The points and also the criteria had been collected and calculated between November 1st, 2021 and November 30th, 2022.
After every track is already revealed. I will upload the chart 'YouTube' summary clip.
R U ready? Let's chek it out!
-------------------------------------------------------------------
[14.02.2023] - FULL REVEALATION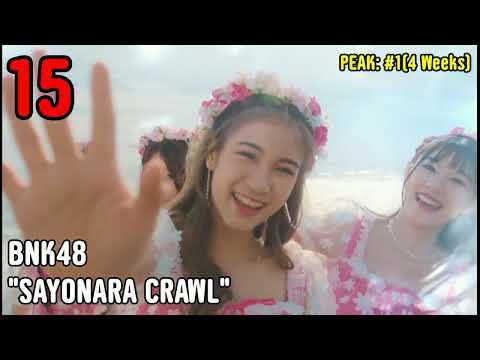 and THIS is the summary video of my 2022 year-end chart. See Ya Next year
- LIST-
50.จำขึ้นใจ (Unforgettable) - ASIA7
49.I Drink Wine - Adele
48.Me Myself & I - 5 Seconds of Summer
47.Moto Kare Desu - AKB48
46.happier - Olivia Rodrigo
45.Girl At Home (TV) - Taylor Swift
44.ขอให้เธอโชคดี (Send You Off) - Tilly Birds
43.หมกกบ OST.ผ้าผีบอก - BNK48
42.ใจเดียว (JAI 1) - Whal & Dolph
41.ถ้าเราเจอกันอีก (Until Then) - Tilly Birds
40.Easy on Me - Adele
39.ทิ้งไป - Only Monday
38.Anti-Hero - Taylor Swift
37.I Bet You Think About Me ft.Chris Stapleton (TV)(From The Vault) - Taylor Swift
36.Mr Schwartz - Arctic Monkeys
35.Hoshizora wo Kimi ni - BNK48
34.Ponytail to Shushu - AKB48 Team SH
33.The Great War - Taylor Swift
32.กลับมาคบกันเถอะ (Please Please) - Billkin
31.Avalanche - Avril Lavigne
30.มนต์รักจิ้งหรีด OST.ผ้าผีบอก
29.Babe (TV)(From The Vault) - Taylor Swift
28.เบื่อคนขี้เบื่อ (I'm Not Boring, You're Just Bored) - Tilly Birds
27.After LIKE - IVE
26.Begin Again (TV) - Taylor Swift
25.ยิ้มเธอคือทุกอย่าง (Always Here) ft.Lula - Tilly Birds
24.เหตุใด (Detective's Love Song) - Whal & Dolph
23.Perfect Sense - Arctic monkeys
22.I Almost Do (TV) - Taylor Swift
21.ตัวเลือก ตัวรอ (Can't Have It All) - Tilly Birds
20.Interlude - Only Monday
19.Breakaway - Avril Lavigne
18.Treacherous (TV) - Taylor Swift
17.รถฉันบินไม่ได้ - Three Man Down
16.ไม่เป็นไรหรอกมั้ง - Only Monday
15.Sayonara CRAWL - BNK48
14.ติดตรงที่ฉัน (It's Not You, It's Me) - TIlly Birds
13.You're My World OST.Last Night in Soho - Anya Taylor-Joy
12.เธอไม่ได้อยู่คนเดียว (On My Shoulder) - Tilly BIrds
11.ครึ่งที่เห็น (Broken) - URBOYTJ x WAII
10.Make Noise - BNK48
9.There'd Better Be A Mirrorball - Arctic Monkeys
8.Long Day's Journey Into Night (II) OST.Long Day's Journey Into Night - Lim Giong & Shih-Yuan Hsu
7.the 1 - Taylor Swift
6.ปล่อยให้เวลา - Three Man Down
5.The Car - Arctic Monkeys
4.The Last Time ft.Gary Lightbody of Snow Patrol (TV) - Taylor Swift
3.เดอะแบก (Baggage) - Tilly Birds
2.The Moment I Knew (TV) - Taylor Swift
1.Oshibe to Meshibe to Yoru no Chouchou - BNK48