3-1:
[center:3srn1bsy]
3. ARIANA GRANDE |
THANK U, NEXT
I know they say I move on too fast, but this one's gon' last, cause her name is Ari
Kicking off the top three, is one of the monster big hits of 2018 - Ariana's surprise(ish) release 'thank u, next'. After the few years that she had, and after the recent break up with Pete Davidson, you'd think that 'thank u, next' would be a clapback for all of her exes. However as Ariana herself said this song is all about "love, gratitude, acceptance, honesty, forgiveness...and growth" and she's totally right. The first verse is dedicated to her exes (she name checks Big Sean, Ricky Alvarez, Pete Davidson, and the late Mac Miller), thanking them for the part they played in her life, the second verse is a dedication to herself and self-acceptance. The bridge is looking to the future and how one day she will get married, and she'll make it last...but even if something happens "at least this song is a smash". I love this confidence that Ari is exhibiting at the moment. She has had a tough time emotionally, and I love that she just decided to create an album with her close friends.
2. ARIANA GRANDE |
GOD IS A WOMAN
He see's the universe when I'm in company, it's all in me
Ariana touches on the subject of sex, religion, feminism and power on this trap/pop song. I think the song title got a lot of right wing religious folks shook, but I mean it's the truth y'all...God is a woman!
The song refers to the almost existential, religious feeling that someone can experience following sex. The song doesn't beat around the bush, it's all about not being afraid to jump straight into this passionate love romance. It's also empowering women to own their sexuality, as oppose to sexual stereotypes that have been put on women in history (and still today...). Ariana is telling her lover how SHE likes it and how SHE wants it. YASSS girl, we don't want no DJ Khaled types here!
The video is also such a phenomenal moment in Ariana's career. It's a visual masterpiece, really suiting the songs. I adore the reimagining of Michelangelo's 'Creation of Adam' in particular, the imagery there is just stunning. 2018 in my opinion belonged to Ariana, and will be interesting to see how she continues to progress in 2019!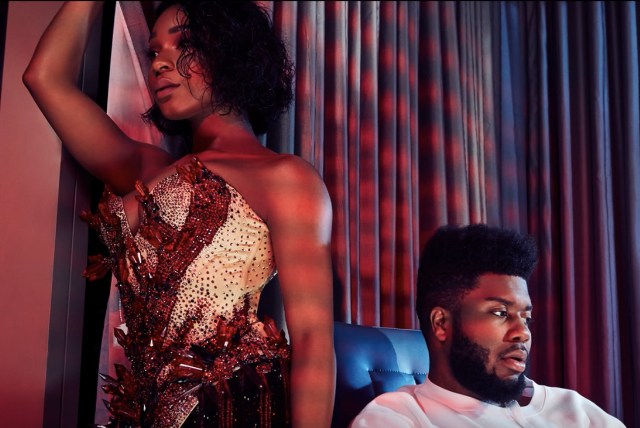 1. KHALID + NORMANI |
LOVE LIES
It's hard for me to open up, I'll admit it, you've got some shit to say and I'm here to listen
This song was such a slow burner for me. I always liked it but the way it grew on me with every listen is absolutely crazy, it's such an ear worm and has ended up being my favourite song of 2018. It's so chill, which is why I think it took a little while to grow on me, but when it hits you, you just can't stop listening. It doesn't feel like the type of song that should smash, as it's quite a low key sensual R&B mid-tempo, but you can't deny a song this good and it took its time but eventually did become a huge hit globally. Normani was so smart to kickstart her solo career, duetting with her friend Khalid, who was bound to really blow up in 2018. 'Love Lies' is about owning up to your own insecurities, and being ready to communicate with your lover regarding what you want out of your relationship. There is this flirty nature between Khalid and Normani's delivery on the song, you can really feel their chemistry on the song. It's dark, it's sexy and it remains a pop friendly catchy R&B song. I know it's nothing unique, and they didn't reinvent anything on this song but it's simplicity is what I love. I also love an R&B duet, and we need more of these released!
[youtube:3srn1bsy]xYtsL9znopI[/youtube:3srn1bsy][/center:3srn1bsy]