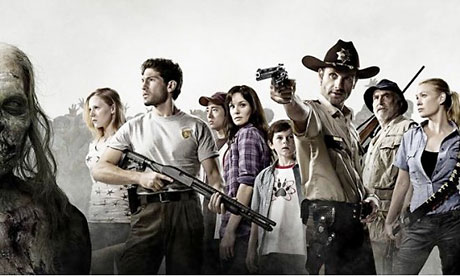 Vampires, you may have noticed, have been having something of a television moment – what with Being Human, True Blood and The Vampire Diaries it's been a fangtastic couple of years for viewers who like their TV with extra bite. But now there's some supernatural competition on its way with AMC – the US channel that gave us the Emmy award-winning dramas Mad Men and Breaking Bad – soon to broadcast the first season of its new zombie apocalypse show The Walking Dead. An adaptation of Robert Kirkman's ongoing comic series, the show will begin a run of six one-hour episodes on US television in October. And the web is already buzzing with anticipation folllowing the recent premiere of the show's trailer at Comic-Con in San Diego.
It's surprisingly rare to see zombie-apocalypse dramas on TV. Unlike vampires, the poor zombie has been too often relegated to a bit player or a figure of fun. Charlie Brooker's Dead Set recently paid homage to the zombie genre, it the show was ultimately a comedy – Kirkman's explicit goal has been to make his zombie comic (which has reached an epic 75 issues so far) a more serious piece of work. In fact the comic has won an Eisner award for its serious, social commentary-approach to the zombie apocalypse concept, and focuses with documentary-like detail on the terrifying ordeals of a group of American survivors suffers from one day to the next. The tagline is: "In a world in ruled by the dead, we are forced to finally start living".
The show is set to air in October in the US – and AMC has clearly committed to the show, bringing in The Shawshank Redemption director (and professed fan of the comic) Frank Darabont as writer, director and producer, to work with Robert Kirkman as executive producer. At a Comic-Con panel discussion with the show's cast and crew (which was interrupted by constant fan cheering) there were also promises that the show would not shy away from either the comic's serious tone or its willingness to see its characters meet brutal ends and cross moral boundaries.
The first six episodes will focus on the coming together of a mismatched group of individuals around the American city of Atlanta, and their travails as they try to find a safe haven from the 'shuffling variety' of zombie. Continuing the trend of British actors heading up US shows, This Life's Andrew Lincoln stars as small-town police officer Rick Grimes, unwilling leader of the survivors.
So will The Walking Dead prove to be AMC's big new hit, following Mad Men and Breaking Bad onto the awards podium (and, of course, onto UK television)? Surely it's about time zombies got more television airtime: in film they've had successful outings in 28 Weeks Later, Zombieland and the remake of Dawn of the Dead, to name a few. They are conquering the computer games industry – the zombie apocalypse Left 4 Dead co-op series of games has been a smash. Perhaps AMC is about to kick-start a new trend, which sees the vampires step aside, and the zombie given its due on television too.