Georgia calls for US help as Russians invade to defend South Ossetia
Kremlin retaliates for Georgian military assault to regain control of rebel region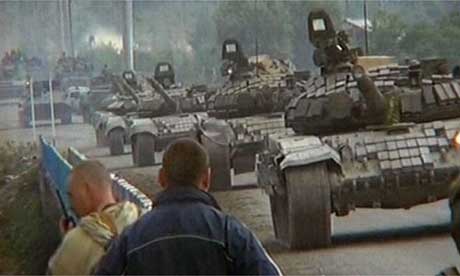 Tanks said to be Russian are shown on television rolling through South Ossetia. Photograph: AP
Georgia today called on the US to step in after Russian tanks rolled across the border to aid separatists in the breakaway region of South Ossetia.
The Georgian president, Mikhail Saakashvili, said it was in US interests to help his "freedom-loving" nation.
In an interview with CNN, he said: "Russia is fighting a war with us in our own territory.
"It's not about Georgia any more. It's about America, its values. We are a freedom-loving nation that is right now under attack."
His plea came during a three-hour ceasefire in heavy bombardment of the South Ossetian capital, Tskhinvali, by Georgian forces.
At least 10 Russian peacekeepers have been killed and 30 injured. Fifteen civilians have died.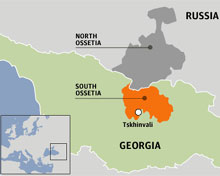 Russian forces invaded the regional capital, Tskhinvali, and bombed a military airbase outside the Georgian capital, Tbilisi, after the president, Dmitry Medvedev, said it was his duty to punish those responsible for Russian deaths.
Earlier, Saakashvili said 150 Russian tanks and armoured vehicles had entered the region and that his forces had shot down two Russian planes over Georgian territory.
"This is a clear intrusion on another country's territory," he said. "We have Russian tanks on our territory, jets on our territory in broad daylight."
Georgia began shelling Tskhinvali last night. Russian forces moved across the border as Georgian troops held a ceasefire to allow civilians to be evacuated.
A Russian commander of the peacekeeping force stationed in the city today said it had been "almost destroyed" by the bombardment.
Before the Russian tanks rolled across the border, Medvedev told reporters: "Under the constitution and federal law ... I must protect the life and dignity of Russian citizens wherever they are."
The Russian Interfax news agency quoted him as saying those responsible "will receive a deserved punishment".
Up to 90% of South Ossetia's non-Georgian population carry Russian passports. Kazakhstan, another former Soviet state, has indicated it may enter the conflict on Russia's side.
The Georgian foreign minister, Ekaterine Tkeshelashvili, told the BBC the current situation was calm, with Georgian troops observing a unilateral ceasefire to let civilians leave safely. An amnesty had been extended to any separatist fighters willing to lay down their arms, she said.
Early today, Georgian troops exchanged fire with convoys carrying volunteer fighters over the border to support the separatists.
Georgia said Russian SU-24 jets had entered its airspace and bombed two locations, including Gori, the birthplace of the Soviet dictator Joseph Stalin, south of the Ossetian enclave. Russia denied this.
International leaders called for peace. A spokesman for George Bush, who is in China, said: "All sides should bring an immediate end to the violence and engage in direct talks to resolve this matter peacefully."
The Nato secretary general, Jaap de Hoop Scheffer, said he was "seriously concerned" about the developments. He called for an immediate ceasefire and the start of direct peace talks.
Vladimir Putin, the Russian prime minister and former president, said "aggressive" action by Georgia would incur a "response".
"The Georgian leadership has unleashed a dirty adventure," a ministerial statement said. "Blood spilled in South Ossetia will be blamed on these people and their associates."
Speaking through Interfax from China, where he is attending the opening of the Olympics, Putin blamed the Georgian leadership for its aggressive stance.
"Heavy weapons and artillery have been sent there, and tanks have been added," Putin said.
"Deaths and injuries have been reported, including among Russian peacekeepers. It's all very sad and alarming. And, of course, there will be a response."
The Kremlin decided to move into South Ossetia after Russia's security council met to discuss how to restore peace and defend civilians. Moscow has stressed it has a peacekeeping mandate and will act on it.
Saakashvili, who has ordered reservists into action, said "the greater part" of South Ossetia had been "liberated". Interfax said Georgian troops had entered Tskhinvali, but this was denied by Georgia.
Georgian television said the country's troops had taken eight South Ossetian villages including Sarabuk, a strategic vantage point on high ground.
A few hours before heavy fighting broke out, Saakashvili had promised a unilateral Georgian ceasefire and offered South Ossetia broad autonomy within Georgia.
Georgia accuses Russian peacekeepers of supporting separatists. Today, peacekeepers said Georgians were targeting their positions and that they had lost some men.
The crisis in the Caucasus represents the first major test for Medvedev, but Putin's comments from China suggest he is calling the shots.
Georgian forces appear to have the upper hand but could soon find themselves fighting on two fronts as another separatist region, the Black Sea enclave of Abkhazia, announced troops were moving towards the Georgian border.
Cossacks from Russia said they were ready to go to the aid of the South Ossetians.
In Tskhinvali, Kokoity, the South Ossetian leader, was meeting Teymuraz Mamsurov, the leader of North Ossetia, which is within Russia and has promised to help the rebels.
Mamsurov said lorries carrying humanitarian aid from his region were attacked by Georgian aircraft last night.