DONATION TO FAMILIES OF THE VICTIMS - https://www.justgiving.com/crowdfunding ... manchester
BREAKING NEWS: Concertgoers flee in terror after two explosions are heard at Manchester Arena at the end of Ariana Grande gig
Emergency services have rushed to Manchester Arena after reports of two explosions.

Video footage showed people fleeing in tears from the venue after reports of explosions at the end of an Ariana Grande concert tonight.

One witness wrote on Twitter: 'Just ran from an explosion, genuinely thought we were gonna die.'

Another said: 'Explosion at Manchester Arena, we were evacuated, a LOT of police here.'

A spokesman for Greater Manchester Police said: 'Police responded to reports of an incident at Manchester Arena. Please stay away from the area. More details to follow...'
http://www.dailymail.co.uk/news/article ... Arena.html
Suzy Mitchell, 26, who lives opposite the venue, said a huge bang rocked the venue.

She said: "[I] just heard a huge bang from my bed, came out to the front of my apartments (we're on the top floor so have perfect view) and everyone was running away in big crowds.

"The bang was so big I heard it from my room which is at the back of the apartment blocks.

"Currently lots of emergency services going to and from. But can't see anything substantial as of yet except fleeing people and lots of cars."

There are reports of injuries on social media, although as yet they remain unconfirmed.

Some reports have suggested the loud bangs may have been caused by a blown speaker.

The noises were heard after the concert finished.

British trainlines out of Manchester Victoria station are currently blocked and emergency services are in attendance, according to Network Rail.
http://www.express.co.uk/news/uk/807967 ... -explosion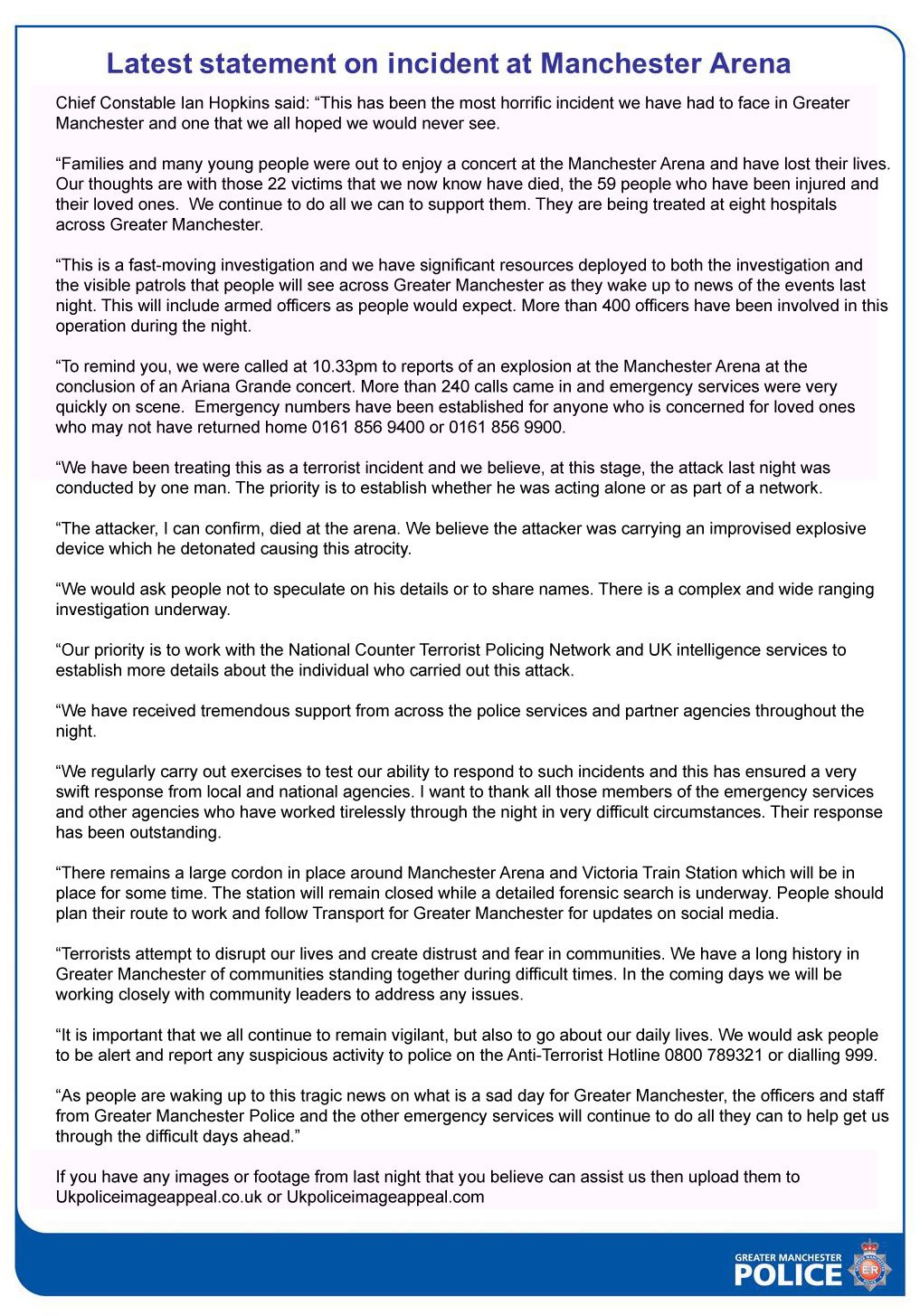 Salman Abedi named as the Manchester suicide bomber - what we know about him
The suicide bomber who killed 22 people and injured dozens more at the Manchester Arena has been named as 22-year-old Salman Abedi, according to US officials.

Born in Manchester in 1994, the second youngest of four children his parents were Libyan refugees who came to the UK to escape the Gaddafi regime.

His mother, Samia Tabbal, 50, and father, Ramadan Abedi, a security officer, were both born in Libya but appear to have emigrated to London before moving to the Fallowfield area of south Manchester where they have lived for at least ten years.
http://www.telegraph.co.uk/news/2017/05 ... mber-know/