2010 Picture by GSP Studios
---
Album Status
(Recording)
(TBA) Album Title
(TBA) Release Date
(TBA) First Single
---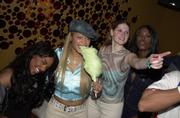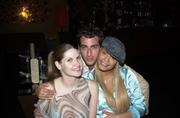 Picture: Blu Cantrell, Lil Kim with friends Lobby, NY 2003
---
Official Clips
| Provided by
TrickAssassins
My World
(1:56)
Secret In My Pocket
(1:46)
---
Offical Links
Twitter
|
Facebook
| Website (TBA)
---
Official News
January 21, 2010 |
Source
Project 365: Day 56 - from Tuesday. Working with Blu Cantrell on photos for her new website, upcoming album, etc. This is a setup shot. Actual photos are top secret.
This week GSP Studios has been working with Grammy-nominated, and Providence born R&B singer, Blu Cantrell.
The above photo is a setup shot from our first session. We just did some basic head shots and had a little meet 'n' greet… talked concepts, you know, famous people stuff.
We've got some big things planned for the look of her upcoming album, including some high-profile locations and edgy lighting concepts.
Blu has been amazing to work with and is incredibly down to earth for someone who has had the #2 song in the entire country. She's also gotten a Grammy nomination for best R&B album of the year. Gotta respect that.
Unfortunately I can't get into the specifics of the shoot or show off any photos. I don't want to spoil any surprises before Blu has a chance to release the images herself. But sit tight. We'll get there.
----
Me
I will try my best to keep this topic updated accordingly.
Last Updated: 09-04-2010