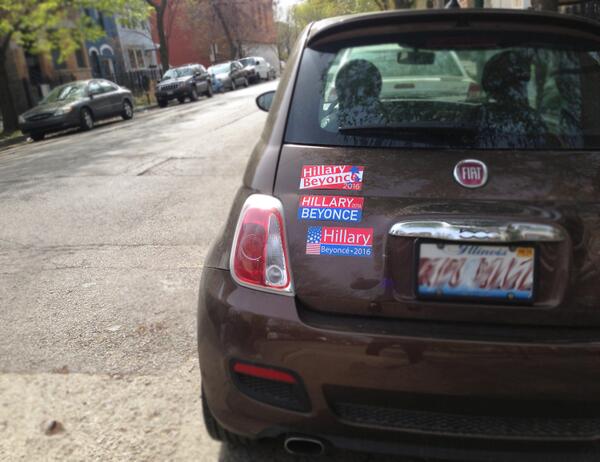 A Chicago resident is starting a one-woman campaign to push two very powerful and distinct women — one a former secretary of State, the other a "Drunk in Love" singer — to team up: Hillary/Beyoncé 2016.
Laurel Kate Sittig, a 29-year-old editor at an online photography gear store, wants to make it happen.
"I think Hillary [Clinton] is an amazing person," Sittig tells ITK about the potential White House candidate. "And I was like, well, who would run with Hillary?"
"Then I thought, Beyoncé's pretty cool. And she has that song, 'Run the World (Girls).' So I thought she'd be down to, like, help run the world — or the U.S. at least."
She admits she doesn't "know a lot about politics," but Sittig contends the unconventional pairing could work wonders on Election Day.
"I think [Clinton and Beyoncé] would bring in a lot of voters who don't even normally show up. So I think that's a pretty good combo," she says.
Sittig started her own bumper sticker campaign to get the buzz going. She's got three variations of a red, white and blue sticker, each sold online for $5, reading "Hillary/Beyoncé 2016." Sittig has sold about 50 so far.
The former first lady and the "Single Ladies" Grammy winner have been mentioned together before, just not as running mates.
Fox News's Jesse Watters said earlier this summer that Clinton, 66, "needs the single ladies vote. I call them Beyoncé voters — the single ladies."
Beyoncé, 33, is a longtime supporter of President Obama and counts herself among Michelle Obama's friends. She hasn't weighed in on whom she would support in 2016, and a representative didn't return ITK's request for comment on pairing with Clinton.
A representative for Ready for Hillary, a super-PAC encouraging Clinton to make a 2016 run, also declined to comment on the record about Sittig's campaign.
But Sittig insists she's on to something.
When asked whether Beyoncé would only make a good vice president, not president, she considered for a moment before replying, "It seems like Beyoncé's a better dancer. But it seems like Hillary has more experience in politics."
http://thehill.com/blogs/in-the-know/in ... nd-beyonce