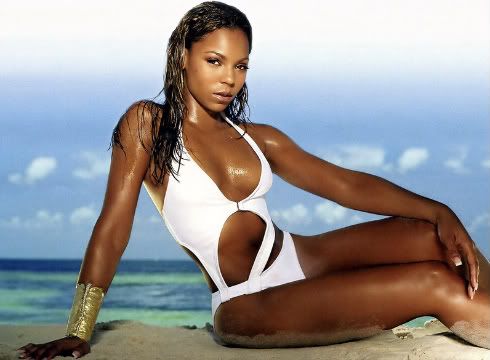 Ashanti, an American pop and R&B singer. As of April 2009, she has released four studio albums, twenty-four singles, and twenty-one music videos on her record labels Murder Inc., Def Jam, and Motown.
Ashanti's self titled debut studio album was released in April 2002, and sold over three million copies in the United States. It produced the number-one hit "Foolish" (spending 10 weeks atop on Billboard Hot 100) and two more top forty hits, "Happy" and "Baby". Her second album Chapter II (2003), another platinum-seller, was released a year after and enjoyed international chart success, spawning her international hit Rock Wit U (Awww Baby) [3] The singer's third studio album Concrete Rose was released in December 2004 stateside and certified platinum by the RIAA one month after release. A minor success in international music markets, however it produced two singles only, including the top twenty hit single Only U. Following a hiatus and a label switch from Murda Inc to Motown, Ashanti's often-delayed fourth studio album, The Declaration (2008) was released in June 2008 in the United States.
Ashanti discography
* Ashanti (2002)
* Chapter II (2003)
* Concrete Rose (2004)
* The Declaration (2008)
(Ashanti Christmas (2003), Collectables (2005), The Vault (2009))
2002
Foolish"
"Happy"
"Baby"
2003
"Dreams"
"Rock wit U (Awww Baby)"
"Rain on Me"
2004
"Breakup 2 Makeup" (Remix) (featuring Black Child)
"Only U"
2005
"Don't Leave Me Alone"
"Don't Let Them"
"Still on It" (featuring Paul Wall and Method Man)
2008
"The Way That I Love You"
"Good Good"
Featuring Artist
2001
"How We Roll" (Big Pun featuring Ashanti)
"Always on Time" (Ja Rule introducing Ashanti)
2002
"What's Luv?" (Fat Joe featuring Ashanti and Ja Rule)
"Down 4 U" (Irv Gotti presents The Inc. featuring Ashanti, Ja Rule, Charli Baltimore, and Vita) "Mesmerize"(Ja Rule featuring Ashanti)
"Into You" (Fabolous featuring Ashanti) "Wonderful" (Ja Rule featuring R. Kelly and Ashanti)
"Southside" (Lloyd featuring Ashanti)
"Jimmy Choo" (Shyne featuring Ashanti)
"Wake Up Everybody" (featuring various artists)
2006
"Pac's Life" (2Pac featuring Ashanti and T.I.)
2007
"Put a Little Umph in It" (Jagged Edge featuring Ashanti)
2008
"Body On Me" (Nelly featuring Ashanti & Akon)
"Just Stand Up!"
2009
"Want It, Need It" (Plies featuring Ashanti)