부산에서 즐거운 하루입니다. 159 회 포럼 송 콘테스트에 오신 것을 환영합니다. 레트로 시즌입니다!

It's a pleasant day in Busan. Welcome to the 159th Forum Song Contest. It's retro season!
10 years ago today, we were in Seoul for the 15th FSC. Exactly a decade later, we arrive for the second time here.
We arrive courtesy of
Colbie
who sailed past the competition with her first win with this incredible bop:
Sunmi - Pporappippam
It's been quite a year for South Korea. Yeah, yeah the country produced Parasite, the first foreign film to win a Best Picture Oscar, and they showed the world how to handle COVID, but the absolutely most important thing they've done this year is win FSC.
Busan is South Korea's 2nd most populous city, and is one of the busiest ports in the world. While here, you can enjoy the beaches - which ARE open - or peruse the colorful shops of the Gamcheon Culture Village. The village is in the hills above Busan, making for some fantastic views, and has some colorful street art and murals.
If you're feeling hungry, this is a seaside town, so of course, there's the robust Jagalachi fish market, where you'd be advised to wear some shoes that totally cover your feet. If you're lucky, there might be fresh octopus. Personally, I'm going to avoid hagfish slime, even though I'm being told it's a delicacy because it looks absolutely disgusting.
Finally, once you've had a chance to vote, you might recover from all your stress by stopping by Hurshimchung (허심청), which has among other things, a strawberry milk bath you can take that sounds delightful. I will emphasize that you should VOTE FIRST because you will never want to leave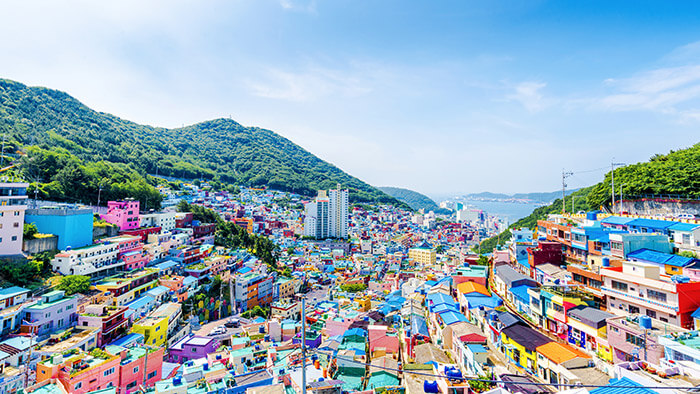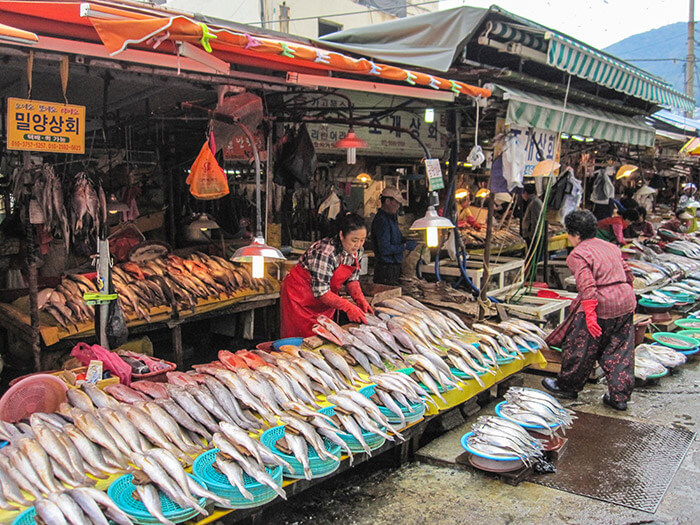 RULES 01. This is a monthly contest, modeled after Eurovision. You need to have at least 10 posts to your credit to take part.
02. You can pick any country in the world.
03. The artist you choose has either to be a citizen of the country they'll represent or to have been born there. At least HALF of the people from your act must be from the country you choose.
04. Your song must be over 10 years old. For Retro FSC 2020, eligible entries must have been released before January 1st, 2010.
05. Eurovision entries are not allowed. Songs from concurrent Eurovision heats are not allowed either.
06. The song cannot have been a UK/US Top 40 hit, as it would give it an unfair advantage.
07. The song can be a remix.
08. The song cannot be a cover version.
09. If your song features a sample, please state it early enough, so the other contestants can decide whether it is acceptable or not by poll.
10. You cannot vote for your own country.
11. Discussion about one's favourites during the contest is NOT ALLOWED, as it has the potential to influence the voting.
12.

PLEASE

try and choose a song not everyone would know, the point is to discover new artists.
13. If a song becomes or is found to be ineligible at any time before the voting is over, it will be disqualified.
14. Make sure you understand all the rules before you take part. You will need to devote about 2 hours of your time to this game to listen to all the entries at least once. Do a little research on your entry before you present it, be sure that it doesn't violate any rules, and check here to see if it has taken part before.


TIMELINE 01 - 15/8 | RESERVE & PRESENT: Present your entry or just reserve your country. Last month's top 5 get their choice from last month reserved, so nobody may choose these countries until they let them go: 01. South Korea (Colbie)
02 Denmark (Affillate)
03 Australia (Spartan)
04 Ireland (westhammer)
05 Sweden (KindOf) 16/8 | PRESENT: Pick any country that hasn't been presented yet and present your entry (ALL reservations are now expired). A maximum of 30 confirmed entries in total will be accepted.

17 - 28/8 | VOTE! Whoever fails to vote during this period will be subject to the penalties described under Late Vote and Very Late Vote

29/68| Late Vote: Whoever votes on this date will receive a 10 points penalty.

30/8 | Very Late Vote: Whoever votes on this date will receive a 15 points penalty.

Whoever fails to vote by this date

(Busan time )

will be disqualified.



31/8 | Results



ALL RULES AND PENALTIES WILL BE STRICTLY ENFORCED




ENTRIES: Argentina (Leo) | Diego Torres - Color Esperanza
Australia (Affillate) | Gyan - Wait
Bulgaria (Top10) | Aksinia - Gubish (Urban & Zeiss Remix) Croatia (navi) | Novi Fosili - Sanjaj Me
Denmark (Spartan) | Lullaby - The Storm
France (trebor) | Rockets - Galactica
Germany (CandyPerfumeBoy) | Sandra - Maria Magdalena
Italy (mondflug) | Brainbug - Rain
Japan (KindOf) | Meiko Nakahara - Dance in the Memories
Malaysia (Spiral) | Dayang Nurfaizah - Walk Away
Poland (jio) | ELEKTRYCZNE GITARY: Dzieci wybiegły
Russia (heppolo) | Оскар - Бег по острию ножа
South Africa (cheapthrills} | Revolution - Light Of My Life
South Korea (Colbie) | Girls' Generation - Run Devil Run
Spain (maroon) | Gabinete Caligari - El Calor Del Amor En Un Bar
Sweden (Nanda) | Yaki-Da - I Saw You Dancing
Switzerland (Mainshow) | Lovebugs - Avalon (feat. Lene Marlin)
Ukraine (franklex) | DRUHA RIKA - DOTYK
United Kingdom (Thriller) | Ladytron - Destroy Everything You Touch
United States (JSparksFan) | B52s - Summer of Love Tagging those of you who participated this year - let me know if you don't want to be tagged in future FSC posts: