G'day, mate! Welcome to Australia!
For those of us in the Northern Hemisphere, this is probably the time of year to be in Australia since we're in the final weeks of winter and just so over it. Being in Australia can be the cure for the spring fever in all of us. So, we can thank GaGarazzi for getting us here after steamrolling through last month's FSC with this song:
We return to Australia for the 12th time, which is the second most for a country overall (after France). However, it's clear we've hit most of the interesting cities in Australia by now as we are stuck in the redundantly-named city of Townsville . Despite the dull name, it is a beach town, so you could just relax. If you can't stay still, go dive as it's one of the top destinations for divers wanting to explore shipwrecks. If shipwrecks aren't your thing, the Great Barrier Reef isn't too far away or you could take a ferry to the Magnetic Island. There's also an underwater museum, so diving is really the thing to try here. I guess you could always try cuddling an indifferent koala at the Billabong sanctuary. Or, I don't know, buy some vegemite at the local Strand night market and eat it on toast the next morning if you really hate yourself. In any case, at least we have a longer timetable this month to enjoy everything so you might want to get that diver certification.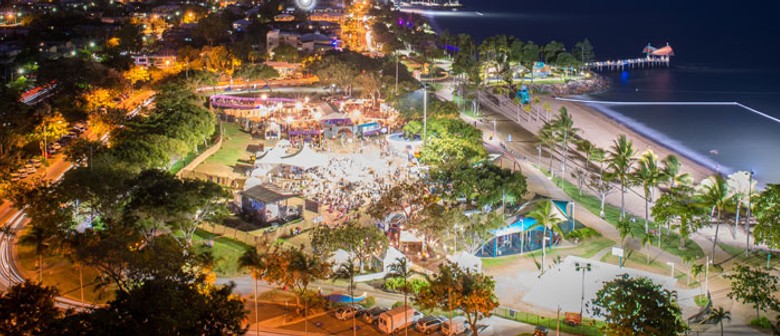 RULES 01. This is a monthly contest, modeled after Eurovision. You need to have at least 10 posts to your credit to take part.
02. You can pick any country in the world.
03. The artist you choose has either to be a citizen of the country they'll represent or to have been born there. At least HALF of the people from your act must be from the country you choose.
04. Your song must be under 10 years old. Eligible entries must have been released after January 1st, 2011.
05. Eurovision entries are not allowed. Songs from concurrent Eurovision heats are not allowed either.
06. The song cannot have been a UK/US Top 40 hit, as it would give it an unfair advantage.
07. The song can be a remix.
08. The song cannot be a cover version.
09. If your song features a sample, please state it early enough, so the other contestants can decide whether it is acceptable or not by poll.
10. You cannot vote for your own country.
11. Discussion about one's favorites during the contest is NOT ALLOWED, as it has the potential to influence the voting.
12.

PLEASE

try and choose a song not everyone would know, the point is to discover new artists.
13. If a song becomes or is found to be ineligible at any time before the voting is over, it will be disqualified.
14. Make sure you understand all the rules before you take part. You will need to devote about 2 hours of your time to this game to listen to all the entries at least once. Do a little research on your entry before you present it, be sure that it doesn't violate any rules, and check here to see if it has taken part before.

TIMELINE 01 - 15/3 | RESERVE & PRESENT: Present your entry or just reserve your country. Last month's top 5 get their choice from last month reserved, so nobody may choose these countries until they let them go: 01 Australia (GaGarazzi)
02 Chile (Mainshow)
03 Israel (Spartan)
04 Germany (Leo)
05 Netherlands (Colbie) 16/3 | PRESENT: Pick any country that hasn't been presented yet and present your entry (ALL reservations are now expired). A maximum of 30 confirmed entries in total will be accepted.

17 - 28/3 | VOTE! Whoever fails to vote during this period will be subject to the penalties described under Late Vote and Very Late Vote

29/3 | Late Vote: Whoever votes on this date will receive a 10 points penalty.

30/3 | Very Late Vote: Whoever votes on this date will receive a 15 points penalty.

Whoever fails to vote by this date

(Townsville time)

will be disqualified.



31/3 | Results



ALL RULES AND PENALTIES WILL BE STRICTLY ENFORCED




ENTRIES: Argentina (Leo) | Lali feat. A.CHAL - 100 grados
Australia (GaGarazzi) | Elk Road - Solid Gold (feat. Julia Stone) (ALT LInk)
Azerbaijan (Affillate) | EMIN ft. Nile Rodgers - Boomerang
Belgium (flopho) | MOLI - Disconnected
Bulgaria (Top10) | Lidia Ganeva - After The Movie
Canada (Magnus) | Tenille Arts - Give It To Me Straight
Chile (xtofer) | Nick Bolt - Magia Negra
Finland (trebor) | Lauri Tähkä - Aavikko
France (mondflug) | Tahiti 80 - Hurts
Germany (heppolo) | Ben Ivory - The Righteous Ones
Ireland (KindOf) | Orla Gartland - More Like You
Italy (Nostagliee) | Takagi & Ketra feat. Marco Mengoni, Frah Quintale - Venere e Marte
Malaysia (Spiral) | Kaka Azraff, Noki, Loca B - Gila
Moldova (Zeph) | Sofia Rotaru - Timpul de a iubi
Netherlands (maroon) | Dotan - There Will Be A Way
New Zealand (Nanda) | So Below - Over
Poland (cheapthrills) | sanah & Vito Bambino - Ale jazz
Russia (ConstantinosV) | Анет Сай, AMCHI - Дыши
Rwanda (Spartan) | MTG -Grindin'
South Korea (Colbie) | Yey - Dawn Spain (franklex) | Jacob Mey - Minúsculo
Sweden (CandyPerfumeBoy) | Agnes - Fingers Crossed
Ukraine (Mainshow) | DOROFEEVA - gorit
United Kingdom (JSparksFan) | The Brand New Heavies - Sunlight (feat N'Dea Davenport)
United States (jio) | Keedron Bryant - I Just Wanna Live

Tagging those of you who have recently participated - let me know if you don't want to be tagged in future FSC posts: