Сардэчна запрашаем у Беларусь! Спадзяюся, вам спадабаецца наш першы раз тут!
Welcome to Belarus! I hope you enjoy our first time here!
In what seemed a tight contest, Nanda got a bump in the final votes to run away with last month's competition. Our first visit to Belarus is courtesy of this excellence:
We arrive in Minsk, the capital of Belarus, a city that has been around in some form for hundreds of years. It's only been a national capital for the last three decades though because Russian had annexed it two hundred years before that. The city has been booming in the last couple decades and just opened a third line on their metro last year.
It will be a bit chilly here as we dip into a Belarussian autumn, so you might want to dip into the KFC to get some fried chicken. I normally wouldn't recommend a fast food place, but it's got an epic sculpted relief from 60s ever Soviet Russia. Actually, a lot of tourist things I'm looking up are about Minsk's Soviet era, so I think I'll bypass that and look at food. If fried chicken isn't your thing, you could try some kletski, which sounds similar to perogies as they are big flour balls filled with meat.
[CENTER]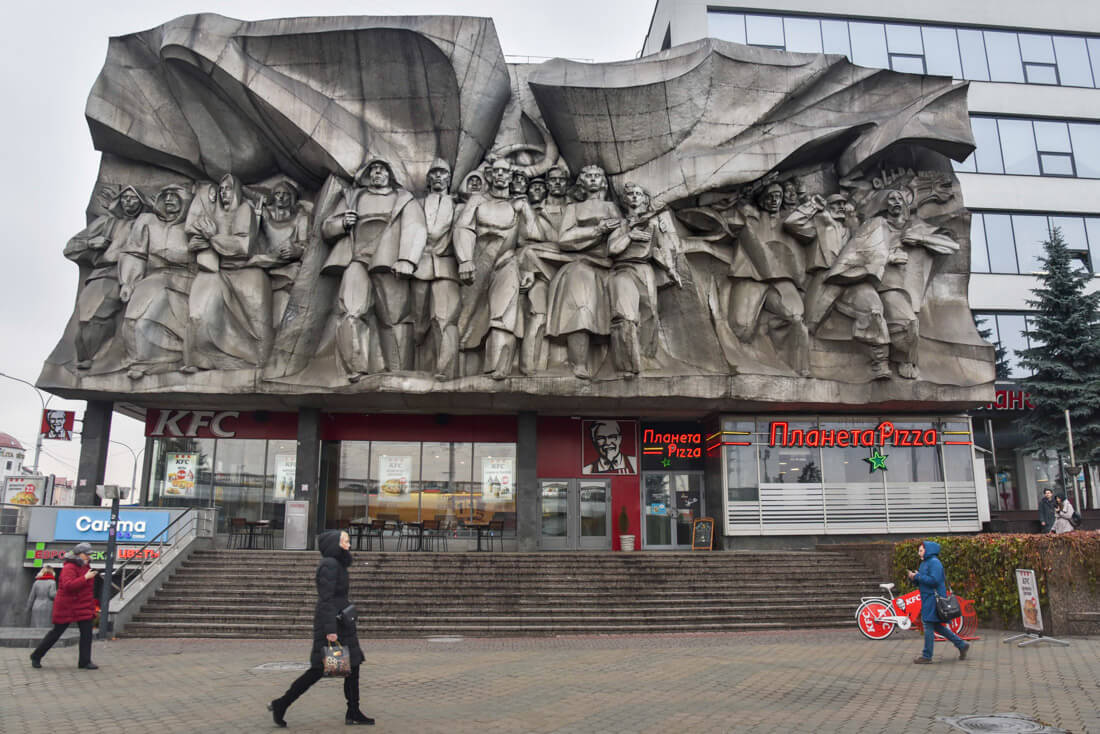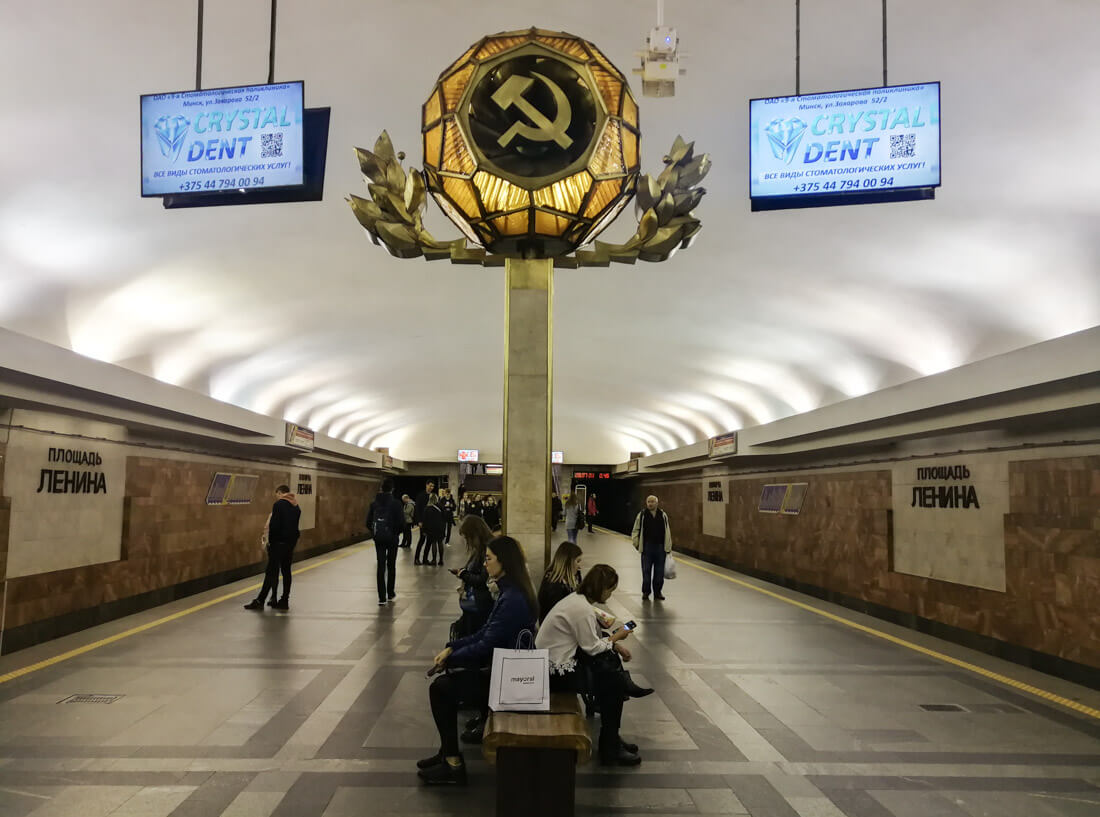 RULES 01. This is a monthly contest, modeled after Eurovision. You need to have at least 10 posts to your credit to take part.
02. You can pick any country in the world.
03. The artist you choose has either to be a citizen of the country they'll represent or to have been born there. At least HALF of the people from your act must be from the country you choose.
04. Your song must be under 10 years old. Eligible entries must have been released after January 1st, 2011.
05. Eurovision entries are not allowed. Songs from concurrent Eurovision heats are not allowed either.
06. The song cannot have been a UK/US Top 40 hit, as it would give it an unfair advantage.
07. The song can be a remix.
08. The song cannot be a cover version.
09. If your song features a sample, please state it early enough, so the other contestants can decide whether it is acceptable or not by poll.
10. You cannot vote for your own country.
11. Discussion about one's favourites during the contest is NOT ALLOWED, as it has the potential to influence the voting.
12.

PLEASE

try and choose a song not everyone would know, the point is to discover new artists.
13. If a song becomes or is found to be ineligible at any time before the voting is over, it will be disqualified.
14. Make sure you understand all the rules before you take part. You will need to devote about 2 hours of your time to this game to listen to all the entries at least once. Do a little research on your entry before you present it, be sure that it doesn't violate any rules, and check here to see if it has taken part before.


TIMELINE 01 - 15/10 | RESERVE & PRESENT: Present your entry or just reserve your country. Last month's top 5 get their choice from last month reserved, so nobody may choose these countries until they let them go: 01 Belarus (Nanda)
02 Croatia (navi)
03 Norway (ConstantinosV)
04 Ukraine (franklex)
05 Germany (cheapthrills) 16/10 | PRESENT: Pick any country that hasn't been presented yet and present your entry (ALL reservations are now expired). A maximum of 30 confirmed entries in total will be accepted.

17 - 28/10 | VOTE! Whoever fails to vote during this period will be subject to the penalties described under Late Vote and Very Late Vote

29/10| Late Vote: Whoever votes on this date will receive a 10 points penalty.

30/10 | Very Late Vote: Whoever votes on this date will receive a 15 points penalty.

Whoever fails to vote by this date

(Minsk time)

will be disqualified.



31/10 | Results



ALL RULES AND PENALTIES WILL BE STRICTLY ENFORCED




ENTRIES: Argentina (Leo) | Nicki Nicole, Dread Mar I, Bizarrap - Verte
Austria (Nanda) | Zoë - Tout Paris
Australia (GaGarazzi) | Vera Blue - Settle
Bangladesh (KindOf) | Jai Wolf - Lost feat. Chelsea Jade
Croatia (navi) | ŠIZA - Oprostite, oprostite, oprostite
Finland (trebor) | Beast In Black - Moonlight Rendezvous
France (cheapthrills) | La Femme - Le Sang de Mon Prochain
Germany (mondflug) | twocolors - Bloodstream
Iceland (Spartan) | Glowie - Unloveable
Israel (Mainshow) | Ran Danker - Beyt Meshuga'im
Italy (maroon) | Blanco - Notti In Bianco
Japan (Spiral) | Nissy - Get You Back
Lithuania (heppolo) | Antikvariniai Kašpirovskio dantys - Mažulė
Poland (CandyPerfumeBoy) | Brodka - Game Change
Russia (ConstantinosV) | FEDUK — КРАСКИ
Slovakia (Top10) | TVRNFLX · Nik Tendo · Shimmi - JOJO
South Korea (Colbie) | Suhyun - Alien
Sweden (Zeph) | Miss Li • Starkare
Ukraine (franklex) | THE HARDKISS feat. MONATIK - KOBRA
United Kingdom (JSparksFan) | Riton & RAYE - I Don't Want You United States (Affillate) | Jordan Fisher - All About Us