♯♬ ♪ ♮♫♭♩
How'd you like to spend C
h
r
i
s
t
m
a
s in
C
h
r
i
s
t
m
a
s
Island?
How'd you like to spend the holiday way across the sea?
♯♬ ♪ ♮♫♭♩
Because as it it turns out, Australia won last month just in time for our holiday plans to be spent there. We can thank Thriller for bringing us here at the appropriate time of year thanks to this song:
We arrive here at an interesting time, not just because it's the holiday season, but also because we're in the midst of crab migration season. the Christmas Island red crab is native and specific to the island, and they are a bright, festive red that covers the roads everywhere. There are crab crossing signs and crab crossing bridges. The adult crabs migrate from the forest to the sea to hatch the babies, and then the babies march themselves back to the forest. It all sounds very time-consuming. If watching crabs migrate is not your thing, you can also hang out in the capital city of Flying Fish Cove and sun yourself on the beaches. Or perhaps sip a mai tai at this restaurant called the uhm... Lucky Ho, which you are - if you get to vacation in the tropics.
​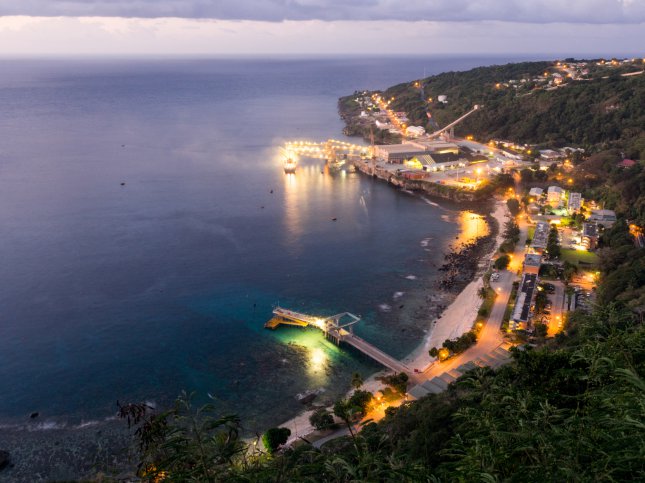 ​
​
RULES
01. This is a monthly contest, modeled after Eurovision. You need to have at least 10 posts to your credit to take part.
02. You can pick any country in the world.
03. The artist you choose has either to be a citizen of the country they'll represent or to have been born there. At least HALF of the people from your act must be from the country you choose.
04. Your song must be under 10 years old. Eligible entries must have been released after January 1st, 2011.
05. Eurovision entries are not allowed. Songs from concurrent Eurovision heats are not allowed either.
06. The song cannot have been a UK/US Top 40 hit, as it would give it an unfair advantage.
07. The song can be a remix.
08. The song cannot be a cover version.
09. If your song features a sample, please state it early enough, so the other contestants can decide whether it is acceptable or not by poll.
10. You cannot vote for your own country.
11. Discussion about one's favourites during the contest is NOT ALLOWED, as it has the potential to influence the voting.
12. PLEASE try and choose a song not everyone would know, the point is to discover new artists.
13. If a song becomes or is found to be ineligible at any time before the voting is over, it will be disqualified.
14. Make sure you understand all the rules before you take part. You will need to devote about 2 hours of your time to this game to listen to all the entries at least once. Do a little research on your entry before you present it, be sure that it doesn't violate any rules, and check here to see if it has taken part before.


TIMELINE
01 - 14/11 | RESERVE & PRESENT: Present your entry or just reserve your country. Last month's top 5 get their choice from last month reserved, so nobody may choose these countries until they let them go:
01 Australia (Thriller)
02 Sweden (Zeph)
03 Cyprus (Mainshow)
04 Belgium (heppolo)
05 Finland (trebor)
15/11 | PRESENT: Pick any country that hasn't been presented yet and present your entry (ALL reservations are now expired). A maximum of 30 confirmed entries in total will be accepted.

16 - 28/12 | VOTE! Whoever fails to vote during this period will be subject to the penalties described under Late Vote and Very Late Vote

29/12| Late Vote: Whoever votes on this date will receive a 10 points penalty.

30/12 | Very Late Vote: Whoever votes on this date will receive a 15 points penalty. Whoever fails to vote by this date (Christmas Island time) will be disqualified.

31/12 | Results

ALL RULES AND PENALTIES WILL BE STRICTLY ENFORCED

ENTRIES:
Argentina (Leo) | Natalie Perez - Lluvia
Australia (Mainshow) | for KING & COUNTRY - amen
Belgium (flopho) | Pierre De Maere - Un jour je marierai un ange
Canada (cheapthrills) | La Zarra - Tu t'en iras
Croatia (trebor) | Manntra - Lipa
Denmark (Affillate) |
Tobias Rahim & Andreas Odbjerg - STOR MAND
Estonia (Spartan) | Elina Born - Linnuteid
France (Thriller) | Oden & Fatzo - Lauren
Germany (mondflug) | Sido – Mit Dir
Ireland (heppolo) | Eimear Quinn - Hibernia
Israel (CandyPerfumeBoy) | נרקיס - הולכת איתך
Italy (Nost) | Emma Muscat - Più di Te
Malaysia (Spiral) | Mia Lateefa - Anima Bella
Netherlands (maroon) | BLØF - Zoutelande
Norway (KindOf) | Michelle ullestad - Emilia
Philippines (xtofer) | Paul Pablo - Gulo
Poland (jszmiles) | RYSY - 88 feat. Michał Anioł
Romania (Top10) | Robert Cristian ❌ Sonny Flame - LIKE A DANCER
Serbia (navi) | Sitzpinker - Mustan
South Korea (Colbie) | cignature - Boyfriend
Spain (Nanda) | Rigoberta Bandini - In Spain We Call It Soledad
Sweden (Zeph) |
ABBA - When You Danced With Me
Ukraine (franklex) | KARNA - Dobryi Vechir (Good evening)
United Kingdom (JSparksFan) | Autoheart - I Know That He Loves Me
United States (GaGarazzi) | Morgxn - Home (featuring Walk The Moon)