ÜDVÖZÖLJÜK VISSZA MAGYARORSZÁGON! HIÁNYOLTUNK!
WELCOME BACK TO HUNGARY! WE MISSED YOU!
Before we get started, let's give a shout-out to franklex's hosting last month.
He clearly has a higher production budget than me, so we are back to the low-res graphics you've all been barely tolerating.
It's been nearly a decade since we were last in Hungary, whose previous win came in August of 2012. It's the third overall, and while the first two wins for Hungary were thanks to
vercotti
, Hungary can now thank
Spartan
for the third win with this song:
Szeged is a small town of about a quarter million people where people can be found frolicking on the Danube to pass the time.
According to Wikipedia, we've timed our visit just right as May 21st is the Day of the City. My rudimentary research skills have proven fruitless on what that exactly that means or how it is celebrated, so I'll leave it up to you to decide if running through the streets naked is the proper way to celebrate.
It does look like there's a pretty enjoyable open-air festival here every summer where theater is performed outside, though my guess is you'll need to brush up on your Hungarian to understand what's going on.
Of course, you can't talk about Hungary without thinking of paprika, and Szeged is said to be the home of it, at least for half a millennia now. The city even have some signature dishes in which paprika plays a big part - szekelygulyas, which is a kind of goulash, and halászlé, a fish soup that goes heavy on the paprika. On both of these, it will a hard pass from me, but perhaps you all are more gastronomically adventurous.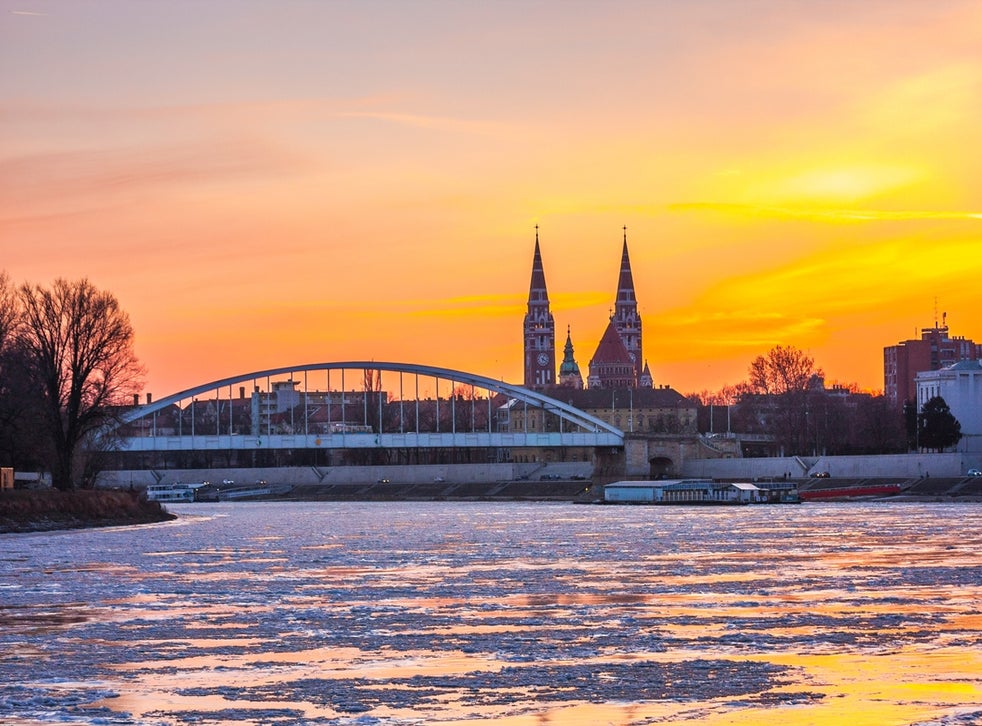 RULES 01. This is a monthly contest, modeled after Eurovision. You need to have at least 10 posts to your credit to take part.
02. You can pick any country in the world.
03. The artist you choose has either to be a citizen of the country they'll represent or to have been born there. At least HALF of the people from your act must be from the country you choose.
04. Your song must be under 10 years old. Eligible entries must have been released after January 1st, 2012.
05. Eurovision entries are not allowed. Songs from concurrent Eurovision heats are not allowed either.
06. The song cannot have been a UK/US Top 40 hit, as it would give it an unfair advantage.
07. The song can be a remix.
08. The song cannot be a cover version.
09. If your song features a sample, please state it early enough, so the other contestants can decide whether it is acceptable or not by poll.
10. You cannot vote for your own country.
11. Discussion about one's favorites during the contest is NOT ALLOWED, as it has the potential to influence the voting.
12.

PLEASE

try and choose a song not everyone would know, the point is to discover new artists.
13. If a song becomes or is found to be ineligible at any time before the voting is over, it will be disqualified.
14. Make sure you understand all the rules before you take part. You will need to devote about 2 hours of your time to this game to listen to all the entries at least once. Do a little research on your entry before you present it, be sure that it doesn't violate any rules, and check here to see if it has taken part before.

TIMELINE 01 - 15/5 | RESERVE & PRESENT: Present your entry or just reserve your country. Last month's top 5 get their choice from last month reserved, so nobody may choose these countries until they let them go: 01 Hungary(Spartan)
02 Australia (Colbie)
03 France (heppolo)
04 Venezuela (cheapthrills)
05 Switzerland (trebor) 16/5 | PRESENT: Pick any country that hasn't been presented yet and present your entry (ALL reservations are now expired). A maximum of 30 confirmed entries in total will be accepted.

17 - 28/5 | VOTE! Whoever fails to vote during this period will be subject to the penalties described under Late Vote and Very Late Vote

29/5 | Late Vote: Whoever votes on this date will receive a 10 points penalty.

30/5 | Very Late Vote: Whoever votes on this date will receive a 15 points penalty.

Whoever fails to vote by this date

(Szegedtime)

will be disqualified.



31/5 | Results

ALL RULES AND PENALTIES WILL BE STRICTLY ENFORCED

ENTRIES: Australia (JSparksFan) | Josef Salvat - Promiscuity
Austria (Mainshow) | GIVVEN - Doubts
Canada (KindOf) | Johnny Orlando - Daydream
Croatia (navi) | Fire in Cairo - While Driving Around
France (heppolo) | Malo' - I Believed
Greece (ConstantinosV) | Nalyssa Green - Panselinos
Ireland (CandyPerfumeBoy) | LYRA - Lose My Mind
Israel (GaGarazzi) | Oren Lavie - Did You Really Say No? (ft Vanessa Paradis)
Italy (Nost) | SISSI - Danshari
Malaysia (Spiral) | Janna Nick - Gatal
Nigeria (Thriller) | Kah-Lo - Drag Me Out
Philippines (xtofer) | KZ Tandingan - Winning
Portugal (flopho) | ODESZA ft. MARO - Better Now
Romania (Spartan) | Minelli - Rampampam
South Africa (cheapthrills) | Orville Peck - Hexie Mountains
South Korea (Colbie) | Ive - Love Dive
Spain (Leo) | C. Tangana, Nathy Peluso - Ateo
Sweden (Zeph) | Hov1 - Blĺ
Syria (trebor) | Nassif Zeytoun: - Takke
Turkey (maroon) | Madrigal - Ne Zamandır Sendeyim
Ukraine (franklex) | SadSvit - Kaseta
United Kingdom (mondflug) | Tia Kofi - Get Better
United States (Affillate) | BRONZE AVERY — Messy

PLAYLIST courtesy of ConstantinosV

Tagging those of you who have recently posted - let me know if you don't want to be tagged in future FSC posts: