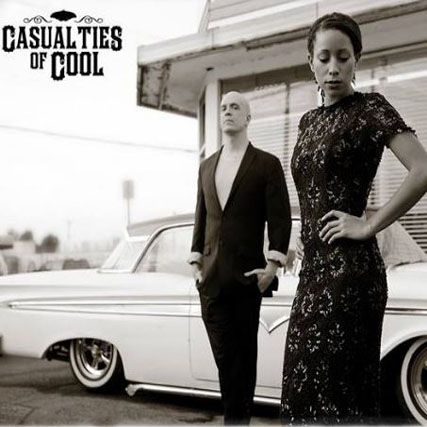 This album suddenly appeared in Thursday mids at 32.
Looked on Amazon and the CD is only an import but it's out to download and stream:
https://play.spotify.com/album/37cVlKDwp4lcIqb3Bwv4et
Listed under the group name Casualties Of Cool on Amazon but the two persons' names on download and the mids. The high position is because it was a Pledgemusic supported release. It came out last Wednesday there, though. Didn't register on charts til today.
Review by Amazon user:
If you enjoy the mellow side of Devin Townsend from his extensive catalog, you cannot go wrong with this release. It is a magical release consisting of 15 tracks, 28 if you get the Deluxe version. The tracks blend together, and not all of them have vocals. It is a very atmospheric sounding album with a slight infusion of blues. With all that said, it does contain some of Devin's mad genius in the track Deathscope for example. Although it is atmospheric, there is nothing about it that is boring. There are layers and layers of music and sound effects that keep you guessing on first listen. This will definitely be a release to listen to through headphones, and you can pick up new things each time. Ché Aimee Dorval deserves credit for some amazing vocals and harmonies. Her performance is flawless. The two of them sound like they were meant to do this album together, and it works in every imaginable way. If you enjoy Devin Townsend or progressive music, you will find something to like in this release.
On his blog, Devin Townsend stated, "Casualties of Cool [is] a duo with myself and Che (ki)... It sounds like haunted Johnny Cash songs. Late night music, completely isolated sounding and different than anything I've done. Che sings most of the leads, and it's probably the truest reflection of who I am in life at this point." He originally announced the album as part of his Devin Townsend Project series, but it is now considered a separate project. On November 20, 2012, Townsend stated that he would release material left over from writing his album Ghost, titled Ghost 2, as a bonus disc to this album, or that he at least hoped to. The track listing was revealed on October 14, 2013.

Concept

Townsend described the story as being about a traveler that is lured to a sentient planet, which feeds on the traveler's fear. The traveler finds solace in an old radio and later an old phonograph. Eventually, he confronts his own fear, and his "force of will to not submit to the fear" liberates a woman held inside the planet, which also frees his own soul.

Track listing

All songs written and composed by Devin Townsend except where noted.
No. Title Length
1. "Daddy" (lyrics: Dorval) 5:11
2. "Mountaintop" (lyrics: Townsend, Dorval) 5:33
3. "Flight" (lyrics: Dorval) 5:32
4. "The Code" (lyrics: Townsend, Dorval) 4:41
5. "Moon" 6:28
6. "Pier" (Townsend, Ågren) 3:39
7. "Ether" 4:50
8. "Hejda" (lyrics: Townsend, Dorval) 3:40
9. "Forgive Me" (lyrics: Townsend, Dorval) 6:00
10. "Broken" 1:59
11. "Bones" (lyrics: Dorval) 3:39
12. "Deathscope" 6:13
13. "The Field" (lyrics: Dorval) 4:01
14. "The Bridge" (Townsend, Epple) 8:13
15. "Pure" (Epple) 4:08
Total length:
73:47

Deluxe Edition Disc 2
No. Title Length
1. "Ghost Wives" (lyrics: Townsend, Dorval) 5:04
2. "Drained" 4:28
3. "Dig For Gold" (lyrics: Townsend, Dorval) 4:41
4. "Dead Eyes" 5:53
5. "Drench" (Townsend, St-Jean, Young) 6:23
6. "Mend" (Townsend, Schmidt) 3:54
7. "Where You've Been" 4:52
8. "Gone is Gone" (lyrics: Townsend, Dorval) 4:13
9. "Fight" 6:49
10. "Glass World" 2:36
11. "Aquarius" 5:11
12. "Perspective" 7:12
13. "Moonshine" 3:49
Total length:
65:05
Not listened yet. It's country music.