Here are the nominees for...

Adele :: The "30" Era hosted by jjavier1978

Dua Lipa : The "Future Nostalgia" Era hosted by aRat

Kylie Minogue :: The "Disco" Era hosted by Thriller

Lady Gaga :: The Chromatica Era hosted by nympho

Mariah Carey :: The "Christmas" Eras hosted by AutomaticBR

Olivia Rodrigo :: The SOUR Era hosted by PopFan
And
the
UKMIX
HOT100
Award
goes
to
...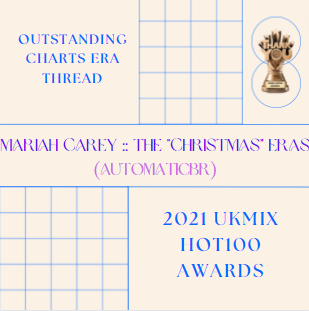 Congratulations AutomaticBR (and lambs) for claiming this award for a second time in 4 years! Another year with AIW atop the BB charts (including Global one!) keeps the thread hot and active during the xmas season!