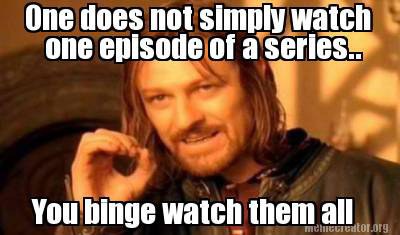 Box set binge watching is now a legitimate method of watching a box set - to the extent that a 'tv' series isn't actually even broadcast nowadays.
Traditionally, a drama series is watched weekly, and depending on how great a show it is, you spend a full week waiting and then when it's over, spend months (or a year or two in Britain) waiting for the next series. Nowadays, many people just watch an entire box set is more or less on sitting.
The question is, which to you prefer?
I admit, I binge watch because nowadays there is just
far too much content to watch
. Yet, part of me misses the 'journey' you go on with the characters, and the time you spend with them. I studied and worked in TV production, so my heart belongs to TV, but as much as I binge watch nowadays,
I do believe binge watching is more about just understand the plot and what it's all about, rather than spending time getting to know characters. Shows like LOST and Desperate Housewives were huge around the globe, and both were rooted firmly in the character development - we watched because we grew to care about each and stayed hoping that ultimately everyone would find happiness (even LOST, which was based on the WTF concept and mysteries, was always about the characters more than what on Earth was happening).
Game of Thrones is similar, but I know a lot of people watch weekly because they have no choice - the less obsessed individuals just wait and do it all in a weekend.
Even soaps, as much as I watch the daily, it can be much more freeing to watch a week's worth on a Saturday morning.
So, any thoughts? How do you engage?