Happy New Year! Head Uut Aastat!

Welcome to the 140th FSC and the first FSC of 2019!



2018 capped off a great FSC year for

Heppolo

who brings us to Estonia for the first time with:

IIRIS - Stranger



We sit right on the Baltic here in Talinn, where you can enjoy the sites if you are willing to brave the cool air.

As it's cool here, be sure to bring warm clothes! Those people dancing in the last picture should really bundle up...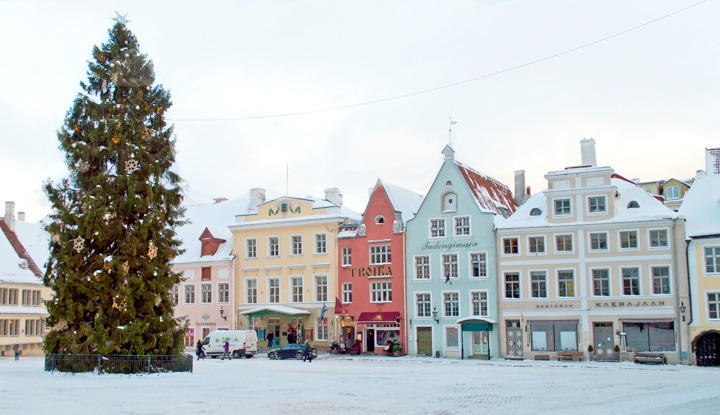 RULES
01. This is a monthly contest, modeled after Eurovision. You need to have at least 10 posts to your credit to take part.
02. You can pick any country in the world.
03. The artist you choose has either to be a citizen of the country they'll represent or to have been born there. At least HALF of the people from your act must be from the country you choose.


04. Your song must be 10 years old at the most. For 2019, eligible entries must have been released after December 31st, 2008.


05. Eurovision entries are not allowed. Songs from concurrent Eurovision heats are not allowed either.
06. The song cannot have been a UK/US Top 40 hit, as it would give it an unfair advantage.
07. The song can be a remix.
08. The song cannot be a cover version.
09. If your song features a sample, please state it early enough, so the other contestants can decide whether it is acceptable or not by poll.
10. You cannot vote for your own country.
11. Discussion about one's favourites during the contest is NOT ALLOWED, as it has the potential to influence the voting.
12.

PLEASE

try and choose a song not everyone would know, the point is to discover new artists.
13. If a song becomes or is found to be ineligible at any time before the voting is over, it will be disqualified.
14. Make sure you understand all the rules before you take part. You will need to devote about 2 hours of your time to this game to listen to all the entries at least once. Do a little research on your entry before you present it, be sure that it doesn't violate any rules, and check here to see if it has taken part before.





TIMELINE

01 - 14/1 |

RESERVE & PRESENT:

Present your entry or just reserve your country. Last month's top 5 get their choice from last month reserved, so nobody may choose these countries until they let them go:

01. Estonia (heppolo)
02. United Kingdom (Affillate)
03. Austria (Mainshow)
04. France (CandyPerfumeBoy)
05. Denmark (mondflug)

15 - 16/1 |

PRESENT:

Pick any country that hasn't been presented yet and present your entry (ALL reservations are now expired). A maximum of 30 confirmed entries in total will be accepted.

17 - 28/1|

VOTE!

Whoever fails to vote during this period cannot participate in the following contest.

29/1 |

Late Vote:

Whoever votes on this date will receive a 10 points penalty.

30/1 |

Very Late Vote:

Whoever votes on this date will receive a 15 points penalty. Whoever fails to vote by this date (Tallinn time) will be disqualified.

31/1 |

Results





ALL RULES AND PENALTIES WILL BE STRICTLY ENFORCED






ENTRIES:



Argentina (HC5555) | Miranda! - La Colisión
Australia (flopho) | The Faim - Summer is a Curse
Chile (cheapthrills) | Yael Meyer - Fire
Croatia (navi) | Rezerve - Oduzimaš dah
Denmark (KindOf) | ANYA - Lift Me Up
Estonia (heppolo) | Maarja Nuut & Ruum - Haned kadunud
France (Colbie) | Fréro Delavega - Ton visage
Germany (Mainshow) | Lord of the Lost - Morgana
Greece (jio) | Pyx Lax ft. Paolo - To Aspro Mo Poukamiso
Indonesia (abdeeaikawa) | Ahmad Abdul - Coming Home
Israel (Nanda) | Stephane Legar - Comme Ci Comme Ca
Japan (CandyPerfumeBoy) | Rina Sawayama - Ordinary Superstar
Malaysia (Spiral) | Sophia Fredskild - Waiting For Love
New Zealand (westhammer) | Bene - Soaked
Norway (ConstantinosV) | Gåte - Kom No Disjka
Poland (jszmiles) | Taconafide - Tamagotchi
Russia (Magnus) | Клава Кока — Ненавижу-обожаю
South Africa (Thriller) | Black Coffee and David Guetta ft. Delilah Montagu - Drive
South Korea (Undercover ) | Say Sue Me - B Lover
Spain (mondflug) | David Otero con Rozalén - Baile
Ukraine (franklex) | Onuka - Strum
United Kimgdom (urbamusik) | Sam Fender - Dead Boys
United States (Affillate) | Philip Phillips - Raging Fire

Playlist
courtesy of ConstantinosV