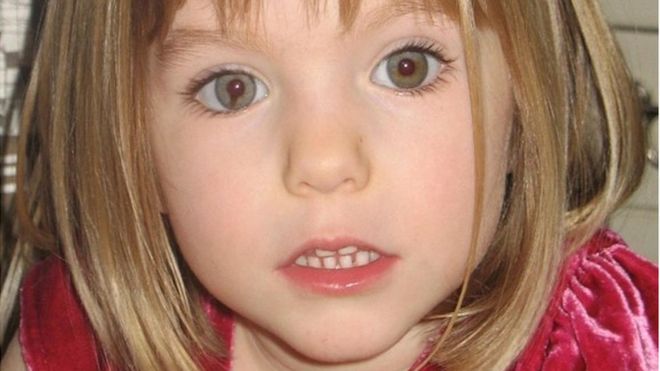 Madeleine McCann: Police given more funding for inquiry

Police have been given more money to continue investigating the disappearance of Madeleine McCann.

The Home Office sanctioned a £154,000 boost to fund the Metropolitan Police inquiry - known as Operation Grange - up until the end of March 2018.

Madeleine was three when she went missing from a holiday apartment in Praia da Luz, Portugal on 3 May 2007.

More than £11m has been spent on the search so far. The Met have been involved in the inquiry since 2011.

It is understood the total cost of the operation for the year 2017/18 is about £309,000. Funding for Operation Grange had been agreed up until the end of September.

The Met said in April it was still pursuing a critical line of inquiry and hoped officers could provide answers to Madeleine's family.

A Home Office spokesperson said: "Following an application from the Metropolitan Police, the Home Office has confirmed funding for Operation Grange until the end of March 2018.

"As with all applications, the resources required are reviewed regularly and careful consideration is given before any funding is allocated."

Thursday 3 May 2007: Timeline

20:30 Kate and Gerry McCann leave their apartment to have dinner at a Tapas bar

21:05 Gerry McCann checks on Madeleine and her siblings

22:00 A man is seen carrying a child wearing pyjamas heading towards the ocean (E-fit images of the suspect were released as part of a 2013 Crimewatch appeal)

22:00 Kate McCann raises the alarm that Madeleine has gone missing

http://www.bbc.co.uk/news/uk-41431516
Today, the UK government have signed off an additional £154k to police to enable them to continue searching for Madeleine McCann up until March.
And to suggest it's received scathing criticism would be an understatement - so, question of the century: should the UK government stop funding the search for Madeleine McCann?
For what it's worth, this is probably one of the biggest stories in UK modern history.